Utah to California to Utah to California
Posted on March 27, 2010 by sonjabarrie
Weird but it's exactly what happened. We left Utah the first week of February which meant we hit California when the rain was also hitting it. Not a big problem as after all I knew all I would be doing the first 3 weeks or so there was going to be unpacking.
I'm getting ahead of myself, to start with, the car was so packed I had to sit up all the way from Utah to Laguna Hills which is about a 12 hour drive. We broke the trip by staying in Mesquite which is about 6 hours from Salt Lake City and 6 hours from Laguna Hills. As you can imagine after just having surgery in October, traveling in December (I did some of the driving but not a huge amount) all the way to Arizona, on to California and then back to Utah, I was already a bit fragile. I then, with the help of friends and Jeanette thank goodness, packed up a 6800 square foot house and had to sit in the car for 12 plus hours on the drive down to CA. It really did put me flat on my back for at least 2 days.
Anyway, I then started unpacking and did get the house in reasonable shape with most of the boxes unpacked after two weeks when we realized I needed to head back to Utah because one of our tenants had decided to move. It had rained just about every day since I had gotten to California and although the sun did come out from time to time I didn't get to enjoy it much. So, Jeanette had left a few days before me as she went to see relatives in Tennessee and other states on a road trip (I just don't think she wanted to unpack the rest of the boxes by herself if the truth be known) and I took a road trip of my own by driving all the way back to Utah, on my own.
Not recommended at the best of times and certainly not with a bad back, that cost me 3 days laying down and then I could only walk with the aid of a cane. It did improve over time thank goodness. It turns out I had to stay down there for over three weeks, (thanks Kathy for your hospitality and friendship as always) only to find out that the tenants changed their minds and want to stay now.
C'est la vie. I did manage to get some sewing done though and finished up a lot of UFO's (UnFinished Objects).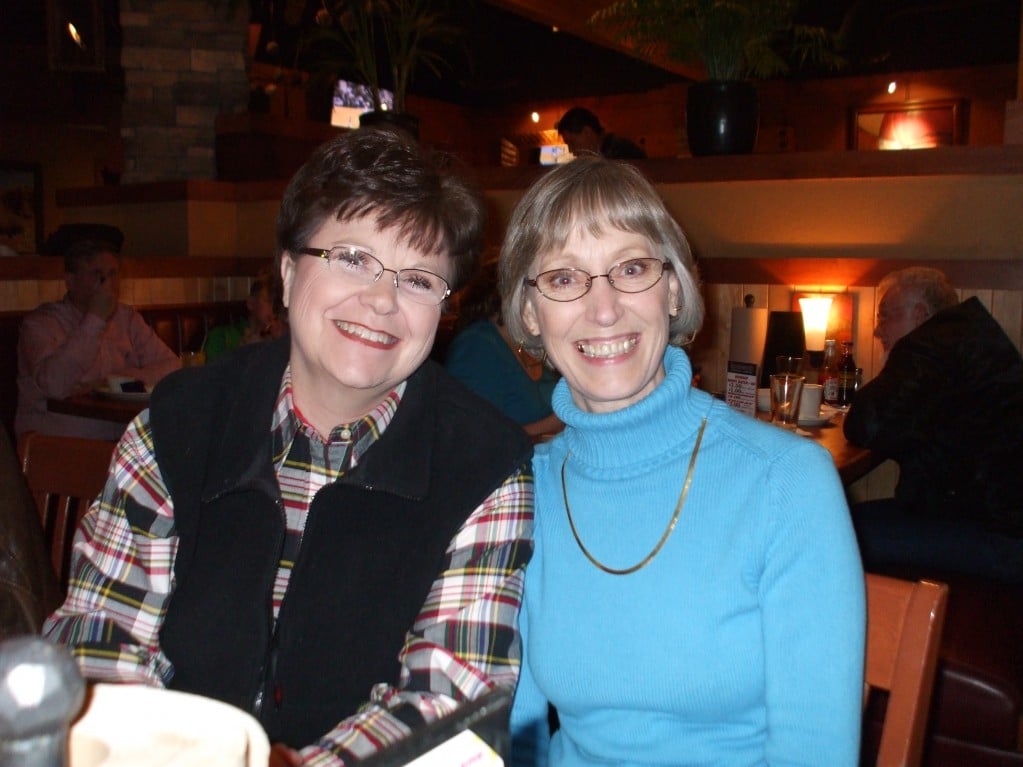 My best friend/sister/sewing buddy Kathy
It hurts to sit at a desk for even an hour so I have to get up a move about a lot and sewing allows me to do that, cutting, ironing, pinning with short times sitting at the machine. I also came to realize if I can't sit at a desk for an hour how on earth am I going to drive for 12 hours back to California even with breaks to walk about and rest? Tim to the rescue! He flew down on Friday afternoon (19th March) and I picked him up at the airport in Salt Lake City at 4pm, he got in the drivers seat and started to drive all the way back to California. We arrived in Mesquite about 9:30pm which was good timing except the clocks are an hour behind in Nevada so it was actually 8:30pm. The buffet closes at 9pm and we thought looking at our watches we had missed it and the line for the restaurant was what looked like a hundred deep.
Never mind there was a McDonalds across the street and it's food of a sort! When you're tired you'll eat anything. It wasn't until we got to the room and saw the bedside clock we realized we could have made it to the buffet, we just needed to set our watches back an hour. DOH! Oh well there are days and then there are days. Still Tim drove all the way back with me laying on the back seat and we were back in Laguna Hills by 2:30pm on Saturday and I was actually able to walk out of the car into the house not hobble!
That was a serious turn around for Tim, he didn't even stop in Utah, drove straight out from the airport, definitely my hero.
The car was still pretty packed too as you can see form the photos, I brought back stuff we didn't think we had room for when we shipped the stuff to California and of course the carpet shampooer that we realized we really needed there.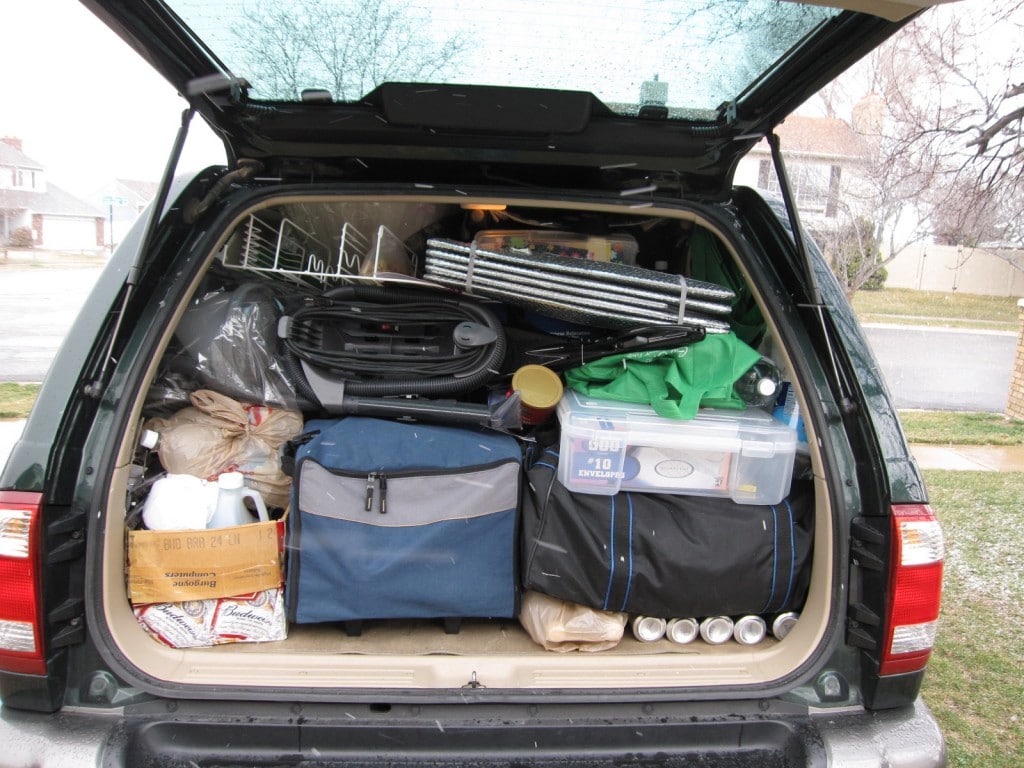 The back of the car was so full you couldn't see out the rear window! Note my sewing machine is in the blue case, I don't go anywhere without it unless I absolutely have to!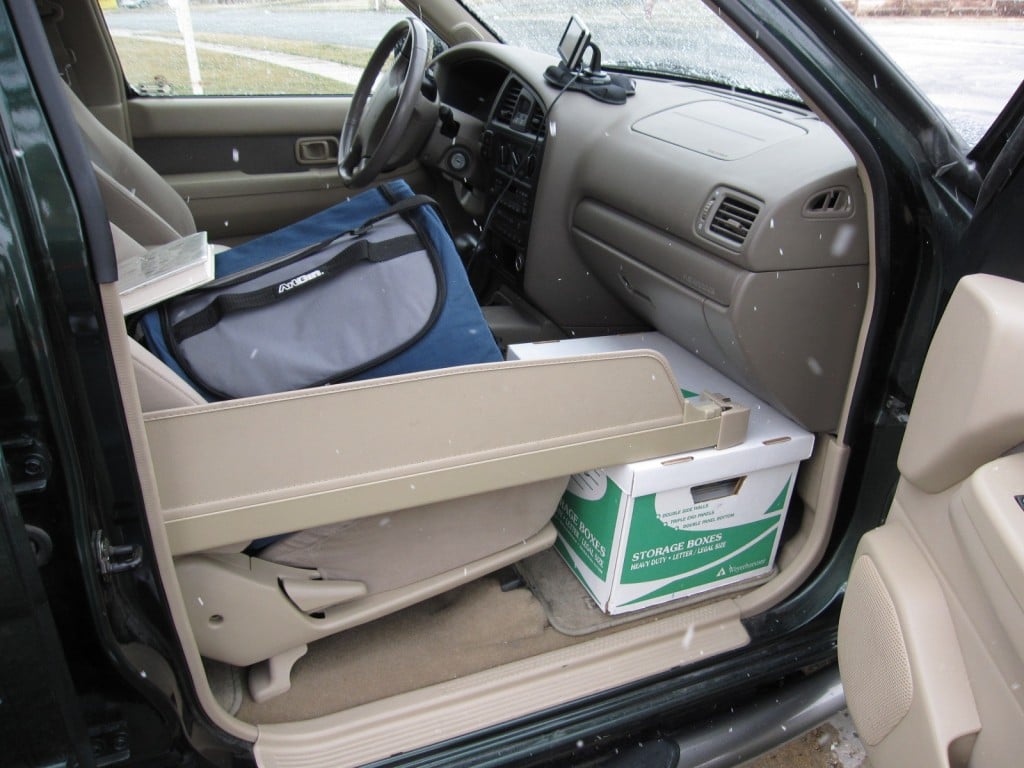 The passenger side was even fuller than this by the time I was done!
I've also put in some pictures of the UFO's I got finished and again a big thanks to Kathy as she loves to sew too and she kept me motivated. I did a king size for my daughter Rosanne who will be here in May and I'll upload a photo of that one then because although she knows she's getting one she doesn't know what it looks like and I want to surprise her.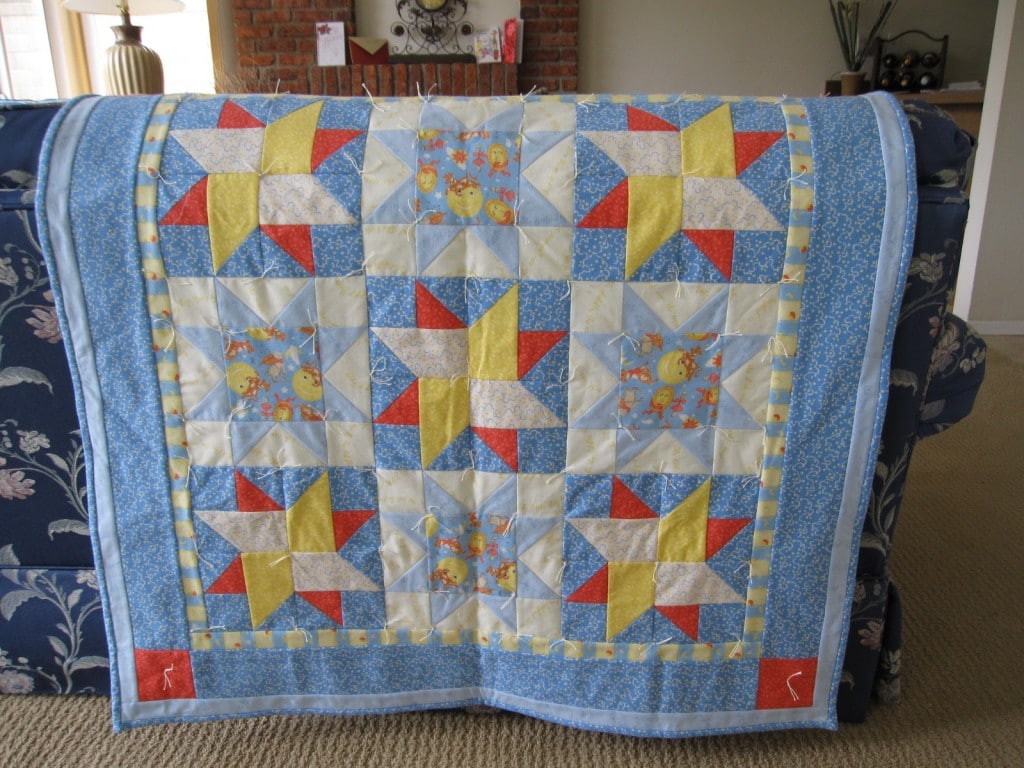 Blanket for my grandson Leo to use while he is in California, I shipped all the others I'd made to him in Germany

I also finished others I have already shown pictures for, my retreat quilt for instance that needed the border finishing, the picnic quilt needed the blocks finishing and sewing together. I also made a beach bag out of the scraps from the picnic quilt which I thought was rather good.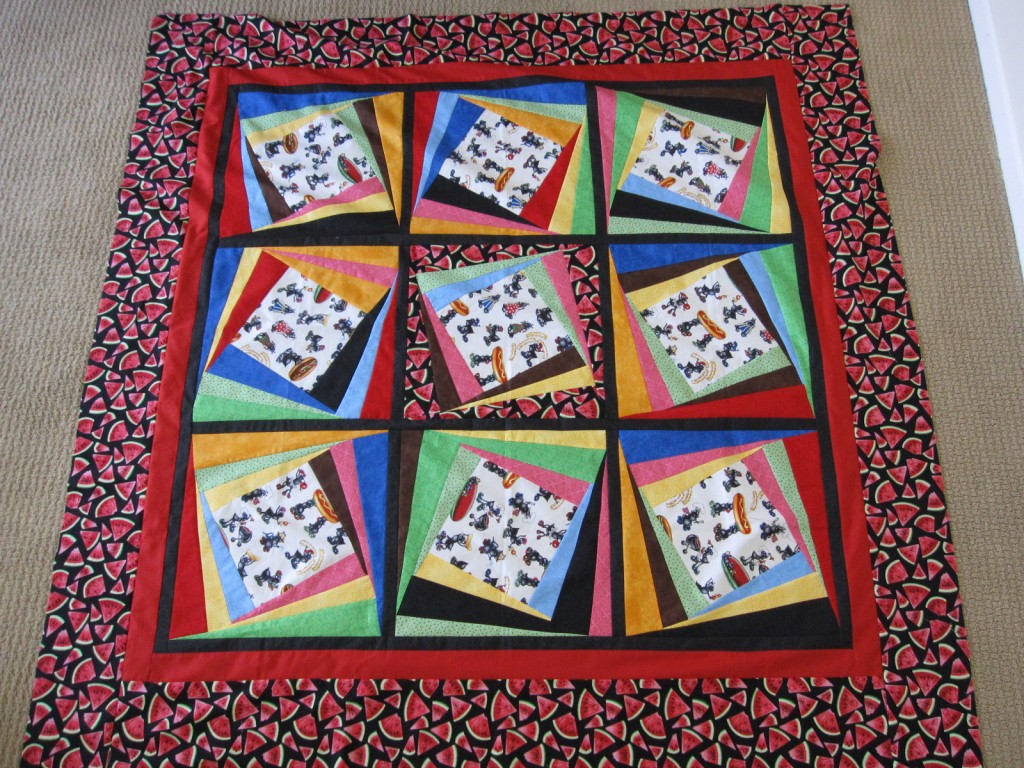 Twist it picnic quilt, now I just have to put the back on, quilt it and bind it and we can use it to sit on the beach!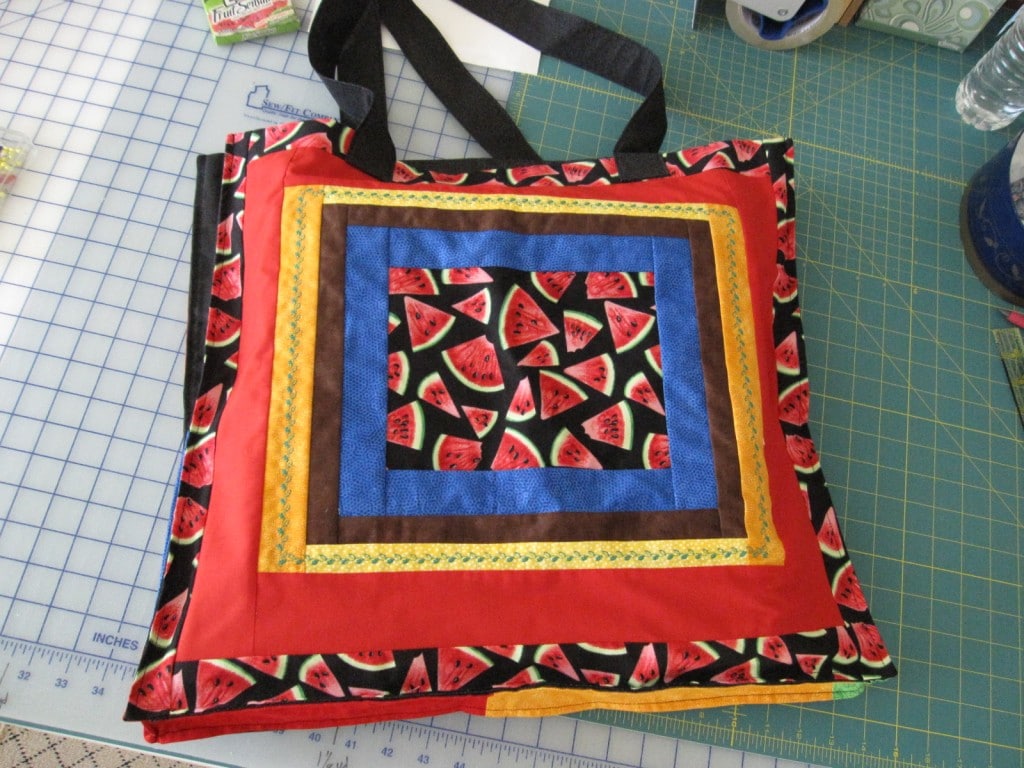 I had scraps left over so decided to make a bag for the blanket, Twist it picnic bag side 1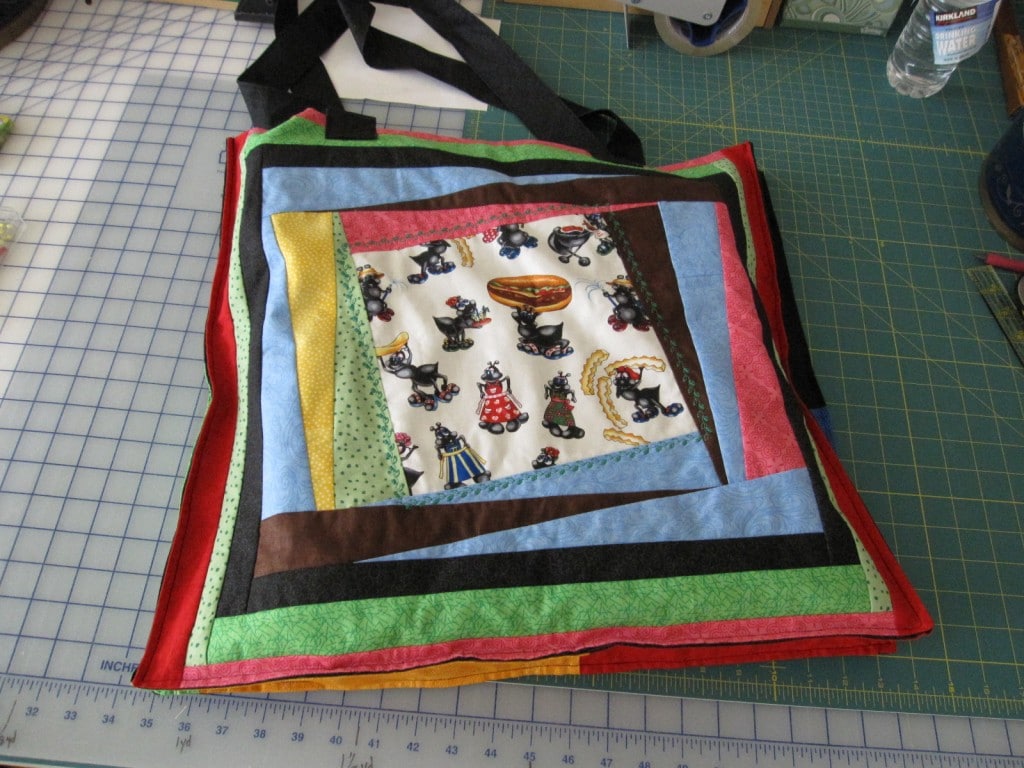 Twist it picnic bag side 2