Fun weekend at a Quilt Retreat
Posted on November 25, 2009 by sonjabarrie
I have just had such a fun weekend. I have wanted to go on this quilt retreat for years but either something got in my way or it was full and I was wait listed. This year I managed to get on the second one (the first one is always full of the regulars who have been going for the last 11 years) and I think the only reason I managed it is because it was the weekend before Thanksgiving and it put some people off.
There were about a 50 or so of us and all we did was sew, play games, get prizes and tons of free goodies for three days. Heaven!
The retreat was up in the mountains south east of Heber which is about an hour and 45 minutes away. A really nice rustic looking place called Daniel's Summit Lodge. The rooms were really nice although the heating was noisy in my room so I didn't sleep so good. Some of the ladies just stayed up all night sewing, I think one of them stayed up till 5:45am on Friday night / Saturday morning. Holy Mackeral, I'm dedicated but not THAT dedicated. Not that I could have stayed up that long even if I wanted to so close to my back surgery. I'm not allowed to sit for more than 20 to 30 minutes at a time for the first month and then be careful after that so as to not stress it.
The 'theme' this year was western so here's a pic of me on the Saturday night in my western gear and my back brace!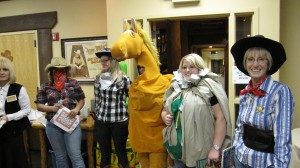 Sonja in Western Gear
The whole exercise is to create a mystery quilt, you choose a simple quilt or challenge quilt and then get one sheet of instructions at a time and when you have completed that page you get the next step. You have no idea what the quilt will look like untill it's finished. The material is all set out on a table in bundles and either quilt takes the same amount of material so you just pick a bundle in the colors you like and hope they work out in the completed project.
As I knew I couldn't sit as long as everyone else I chose the simple pattern but the challenge quilts did come out looking spectacular and as we got to take that pattern home with us I might just make it someday.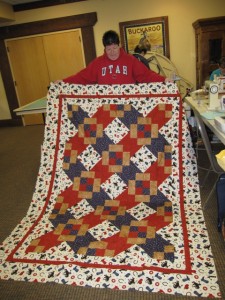 Suzanne with her easy quilt, she chose some cowboy fabric as this is for one of her grandsons.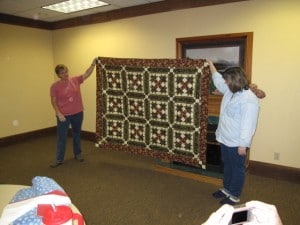 A challenge quilt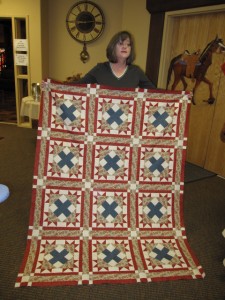 Another challenge quilt, beautiful!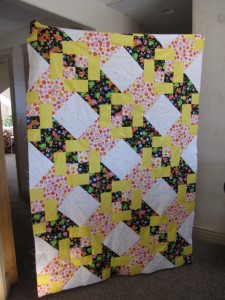 Sonja\'s easy quilt, I chose this fabric because the dark fabric had cute green frogs on it and as usual it is another quilt for my grandkids! I still have to add borders and then quilt it but it seems to have come out pretty good.
THANKSGIVING
Needless to say my back is getting better and I am looking forward to Thanksgiving, one of my best friends Vanessa is here from Costa Rica which is always fun but it does mean she won't be here for Christmas which is a big disappointment. All in all things are going well and for that I am extremely grateful.
2 Responses to "Fun weekend at a Quilt Retreat"