elle est arrivée (and I'm not talking Beaujolais Nouveau!)
Posted on November 30, 2010 by sonjabarrie
Yes I'm back in Utah, AGAIN! This post is kinda 2 posts in one, apart from the fact I have been too busy to post I have had limited to no internet for a week. Now, as someone whose whole life IS the internet not having access for one day seems like a month, can you imagine the withdrawal symptoms I have been suffering this last week? Doesn't even bear thinking about!
1st Post
To start with there's my granddaughter Sonia's quilt, I finally finished quilting it (or so I thought) and got it off the quilt frame. I knew I had limited time to get it done, not just because we are moving but because her birthday is the 6th December and I had to get the binding on it and get it mailed.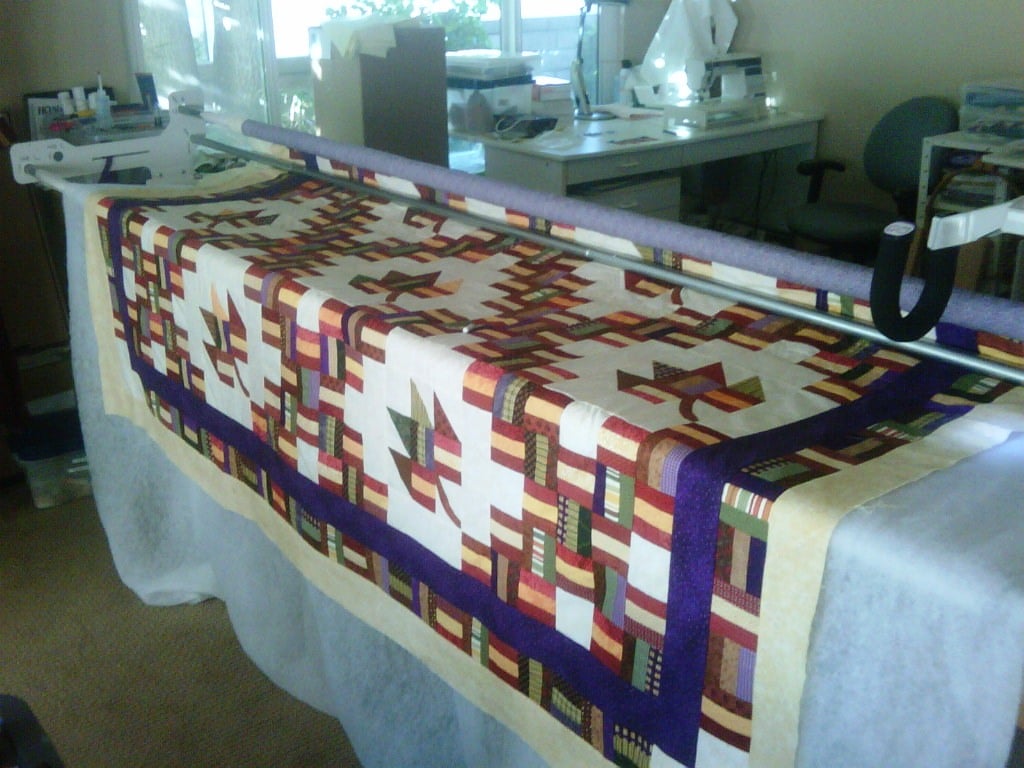 Sonia's quilt on the frame
When you bind a quilt you machine sew the binding onto the right side of the quilt and then turn the binding to the back over the unfinished edges and hand sew it in place. You can't really machine sew to the back as you would need to sew from the front in the "ditch" between the binding and the quilt (so you can't see the stitches) and hope like mad you are catching and sewing the binding at the back. It's not pretty and can take just as long to unpick misses and messes as it does to just sew the flipping thing by hand.
Anyway I digress, nothing new there then, I was most of the way through sewing the binding on the front when I noticed that I had missed quilting three small 3 inch blocks in one of the corners. I'm not saying the air was blue by the time I had got done cussing and ranting and raving but it was a sure fire match for the Mediterranean! I think I must have run out of thread and decided to finish the pattern on that part of the quilt the next day and of course 2 days later couldn't even remember what I was doing let alone where I left off.
Maple Leaf detail Sonia's quilt, it is this small maple leaf design I missed.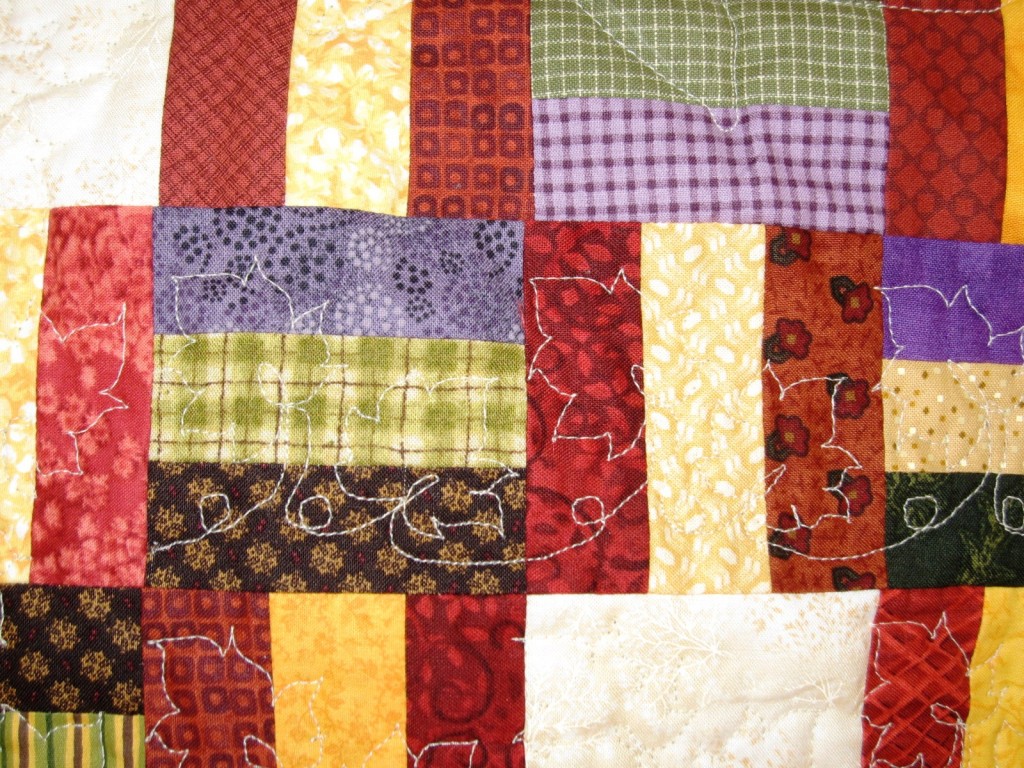 Another Maple Leaf detail on Sonia's quilt
So back on the frame it went, thankfully I didn't need to pin on the whole quilt, just enough to get that corner done, and even then I was obviously tired. I spent ages getting the pattern lined up right, got it quilted, went round to the front to check my work and tied everything off. Then I looked again. I had only quilted 2 of the blocks and completely missed the third. DOH!
There are days and one of those days and today was IT!
How can our brains do that to us? Trick us into believing we have done something when we haven't. Make our eyes believe we are seeing something that isn't there and generally changes our whole perception of stuff for what seems like no reason at all. Anyway I got it done, now to the hand sewing.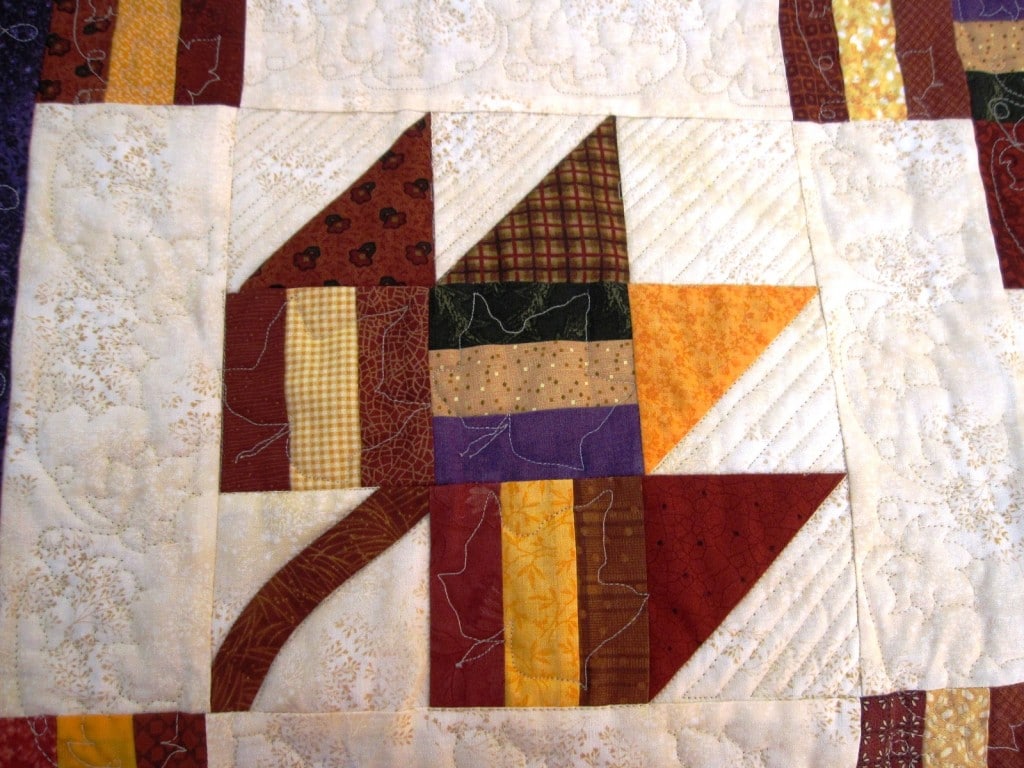 The whole quilt is based on the Maple Leaf design so I decided to put small maple leaves on the large maple leaf block.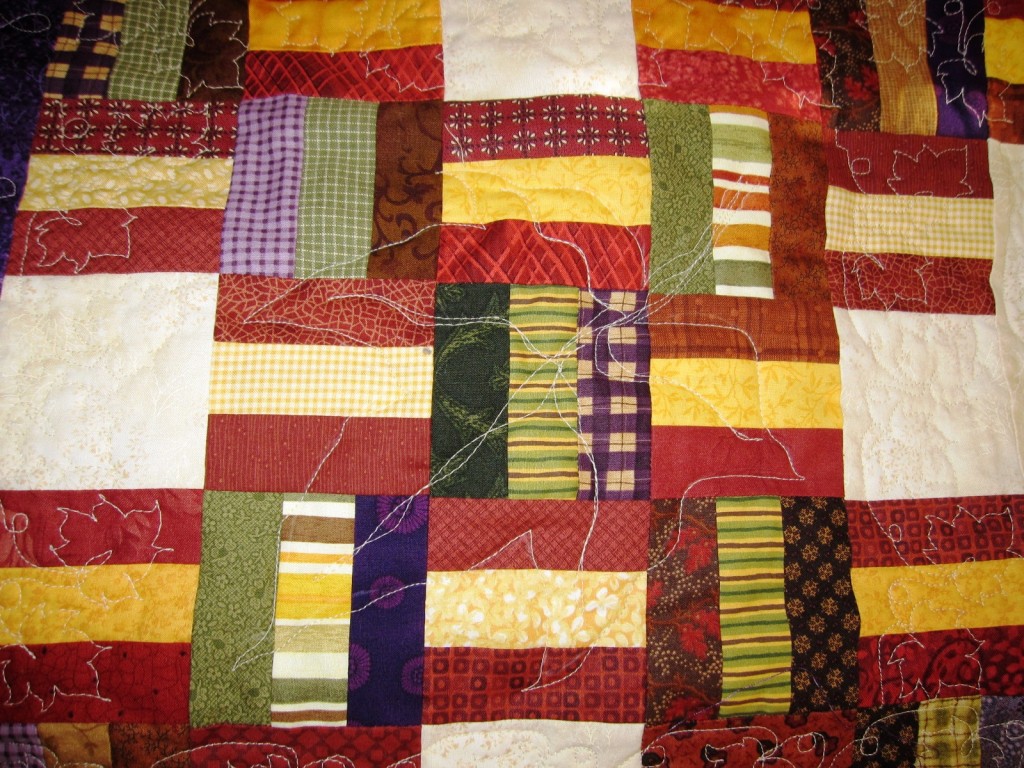 On the blocks that were made of small solid fabric blocks I quilted the outlines of a maple leaf.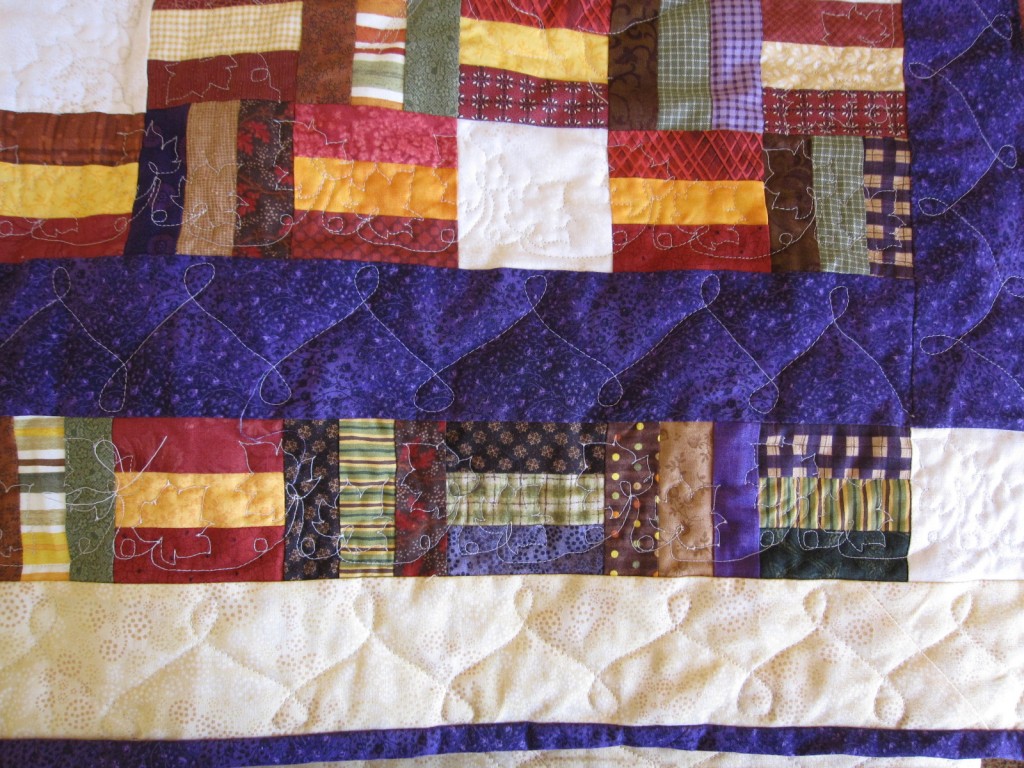 For the borders I did loops with the Maple leaf design in rows.
TADA! The finished quilt, well almost, you can see at the top I still have a bit of the binding to finish but I should be able to get it in the mail tomorrow and then she will have it for her birthday on the 6th Dec. You have to also keep in mind this has taken me 2 years to finish! I finished the actual quilt top in Dec 2008 but with all this moving around quilting it was never a priority but I am really trying to give all my children and grandchildren at least one quilt before all this moving kills me LOL!
2nd post
I talked about moving a couple of posts ago and also posted some pictures of all the boxes, I think I am living out of a cardboard box sometimes, but Tim and I took 4 days off work, Thursday 18th thru 21st Nov to get the final stuff done. It took all 4 days too, we were still packing come 9pm on Sunday night and the truck was due to arrive at 8am on Monday.
They duly arrived at 8am and started to inventory the boxes and stuff as they usually do and it took them till 5pm to get everything loaded onto the truck. I wouldn't mind but in order to make room they took the front wheels and pedals off the bikes, took all the feet off the furniture and generally broke everything down to its smallest component. Sounds great in theory we'll see how it goes at the other end when it all has to go back together!
So at 5pm when the truck left we still had to finish cleaning everything and then pack what we were going to live with for the next week in our cars. We were still trying to get it all in our cars at 6pm when I did a final walk through and found stuff in a cupboard that had been covered by our suitcases and sleeping bags. Bugger!
We got it all in though and neither of us could see out the back window (thank goodness for side mirrors!) and got on the road. We thought we would drive for a couple of hours at least so we wouldn't have so far to drive the next day.
You know I'm not a big proponent of gambling, to me you might as well just take a dollar bill and light a fire with it as to put it in a slot machine but I have to say when it comes to finding a cheap, clean and nice place to stay a gambling state is the place!
We were about 45 minutes from the Nevada border when we pulled in to a small town to eat fast food and stop for the night. We went to the motel first, the rooms were $89 plus tax and the office looked pretty run down so before committing we asked to see the room.
You know those movies where you hear the bed squeaking rhythmically in the next room? Michael Fox famously did a scene in a movie where there was loud classical music and he was waving his arms as if he was leading the orchestra to the pounding in the next room which also coincided with the music. I sat on the bed and not only was it so soft I felt like I had sunk to the floor but is squeaked like a banshee all the way down.
The shower had tiles missing, it was very dark and very cold; need I say more? We both decided that even though it was nearly 10pm we would drive to the next town and see if we could do better.
The next town just happened to be across the Nevada border in Primm, so we pulled into a hotel/casino called Whiskey Pete's and the rooms were $28 plus tax. It was big, had two beds, nice mattresses, warm, clean and best of all: cheap!
I only want somewhere to lay my head for 8 hours and get on the road the next day but I do want to do it in relative comfort. If you are driving along I15 and need a place to stay Primm is a good place, there are three major hotel/casinos and they are all owned by the same company I think. The halls at Whiskey Pete's are showing their age, it does need a bit of a revamp but for $32 total the rooms were more than adequate. I've stayed in a Best Western for a $100 that weren't this good and supposedly Best Westerns have a fair to moderate reputation. Just goes to show you can't judge a book by it's cover.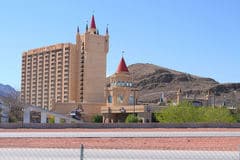 Whiskey Pete's, Primm, Nevada
Stay Tuned for the next installment where you'll get answers to these exciting questions: Did all the furniture arrive in one piece? Did all the pieces get put back together? Do Tim and Sonja like Utah weather? Ahhhh, the excitement, the thrills, the backbreaking work!
.
3 Responses to "elle est arrivée (and I'm not talking Beaujolais Nouveau!)"