Cool Quilt Show
Posted on June 07, 2010 by sonjabarrie
Well I thought it was cool anyway but as Tim says I'm raving mad. After all you have to be mad to take perfectly good pieces of fabric, cut them up and sew them back together again. Well I never said I had that strong of a grip on reality ;o)
Being new to California I am trying everything I can think of to meet new people. One way was to join a quilt guild, take sewing classes, volunteer for stuff. Sooner or later you have to meet someone right? I have to say I have met more people is the less than 6 months I have been here than the 10 years I was in Utah.
I tried to join a quilt guild in Utah but they never called or email me back. I took numerous classes but after the class everyone went their own way and I never saw them again. I think the problem was that if you are not in the 'church' you were on your own. Everyone assumed everyone else was in the 'church' so you would have your own circle of friends who went to your 'ward'. (The LDS church is split up into wards which cover set areas)
You would often get a flyer stuck to your door about some function like a picnic or BBQ and everyone was invited but all the address given was "X ward", well if you are not in the church and have no idea where 'x ward' is then I guess you aren't invited!
If I had kids in school that would have been easier because you at least get to meet other mum's but if yours are grown and gone, tough luck.
The first quilt shop I went to (A Time To Sew) we got to talking and when they found out I was new they said I need to join the local guild, gave me all the information about it, even told me about other quilt shops in the area (thank you Martha who owns the store and Jennifer who works there) invited me to their free sessions, talked about their classes, everything, I felt so welcomed.
Since then I have met so many people, been invited to join a friendship group for sewers who are new to the area and have met some really nice people and we've had lunch together and are set to go to a movie together. I've joined a guild (Beach Cities Quilters Guild) have met loads of people and had some really fun times, especially over the 3 days I volunteered at the quilt show that the guild put on (Friday was set up, Saturday and Sunday was the actual show) and have even been invited to join another guild, Flying Geese Quilt Guild by someone who lives on my street (thank you Julia). She also belongs to Beach Cities but really emphasized how much fun I would have at her guild too.
Amazing!
I really was not sure about coming to California at all, was actually quite scared I would be even lonelier what with leaving my best friend Kathy behind but it hasn't been all that bad at all. I still miss Kathy terribly and I miss our sewing sessions every Sunday, we always had a good laugh or we could cry on each others shoulder. No one will ever replace her, not after 10 years but at least I am not alone which was my biggest fear and the one thing it took me years to get over in Utah.
Anyway, it was a great show and the quilts were fantastic, absolute works of art some of them. Here's a selection of some of the ones I liked or thought were superb.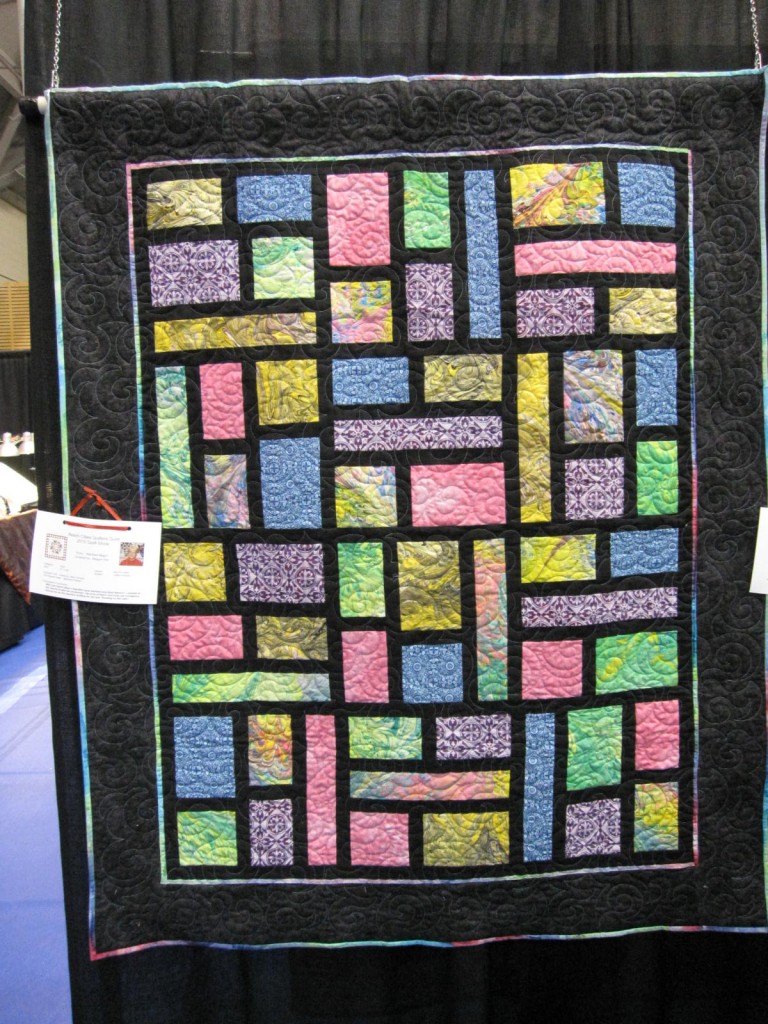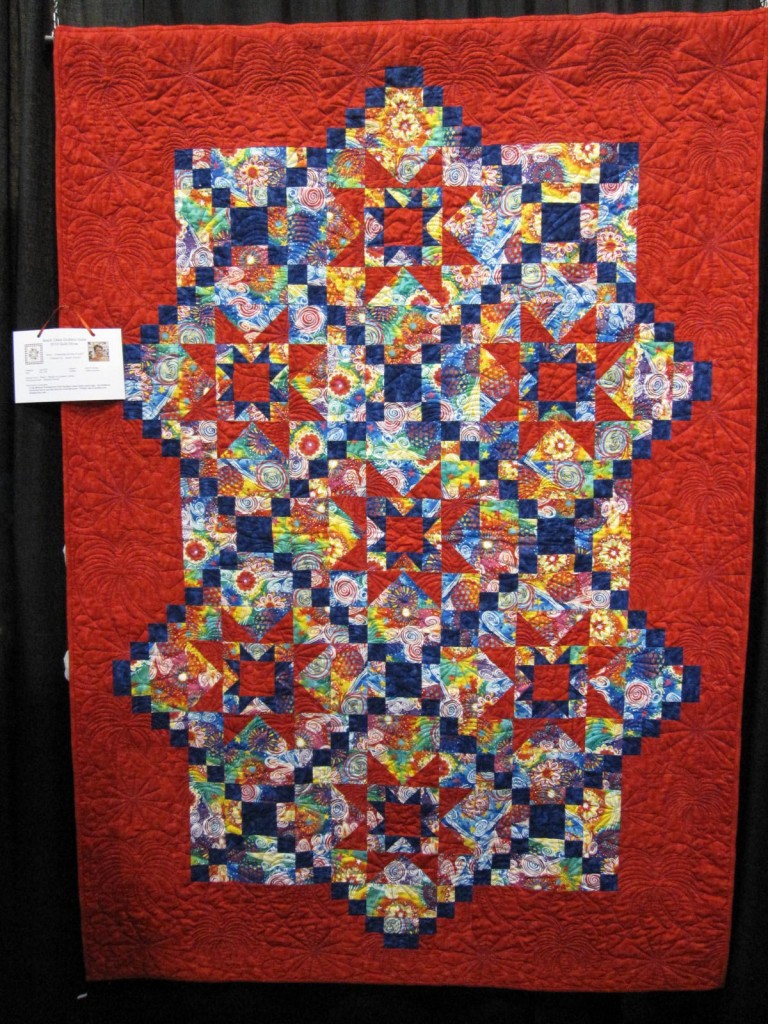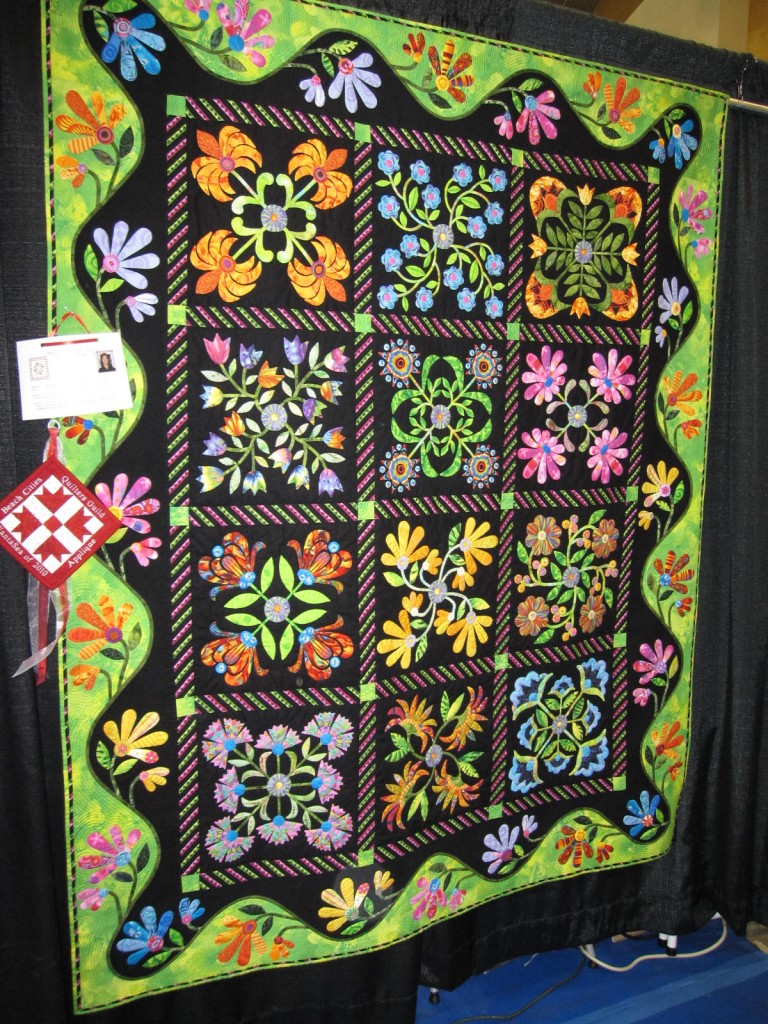 This quilt is truly amazing, each block has the design hand appliqued onto the black background. I took a close up of a single block so you can see the workmanshio.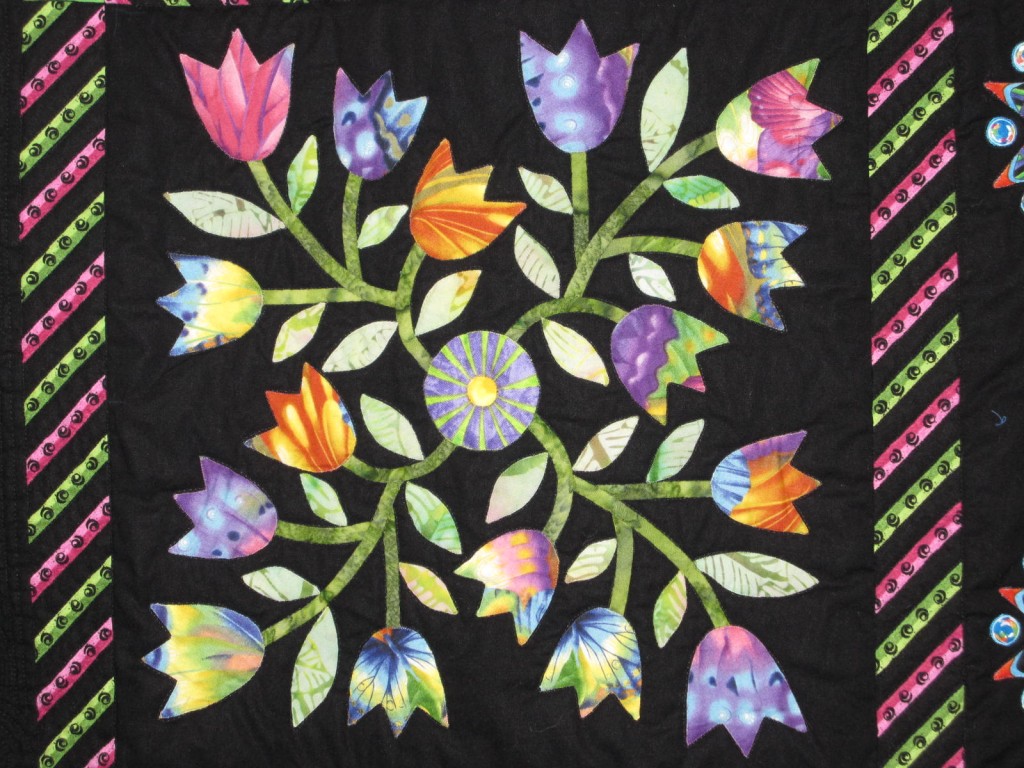 Each leaf, stem, flower and the center has been hand sewed onto the background.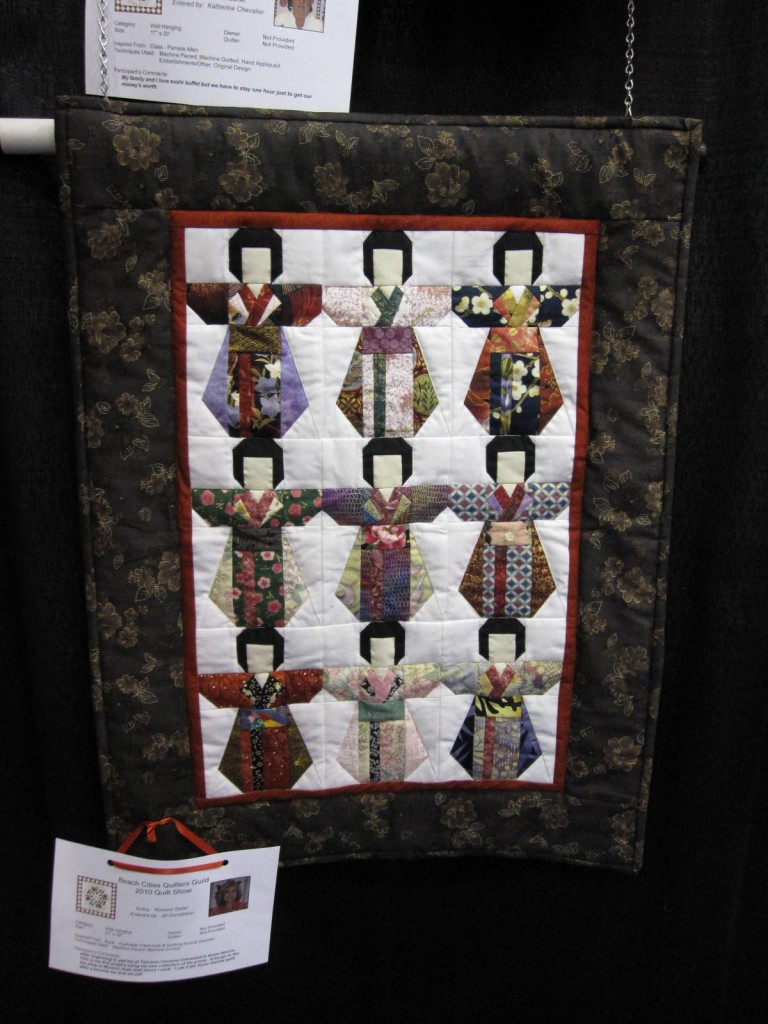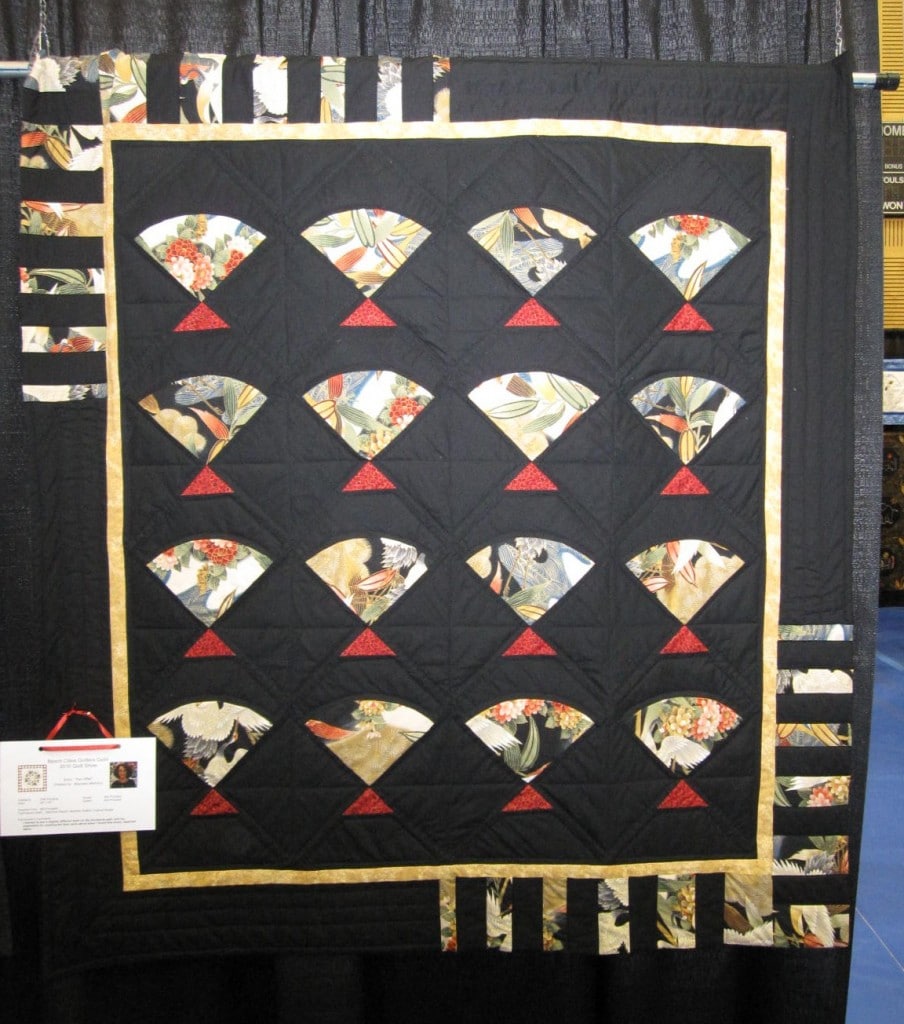 I have made the fans for this quilt in pink and black Chinese fabric but have yet to sew the fans onto the background blocks. Now I can't wait to get it finished as I really fell in love with this one.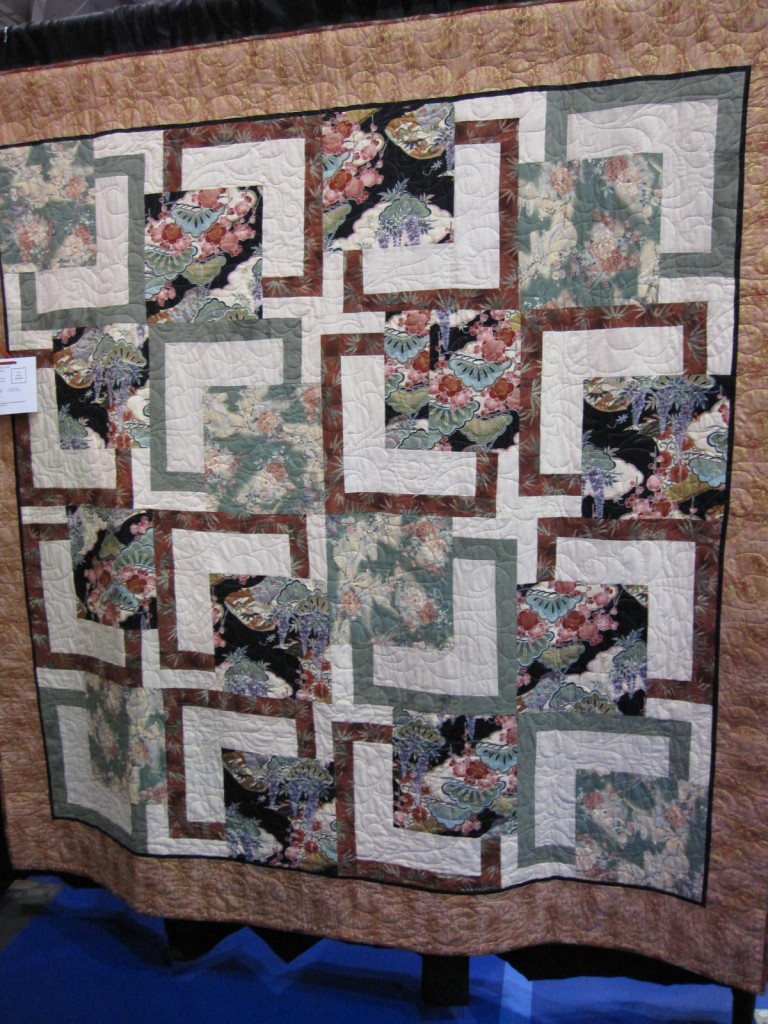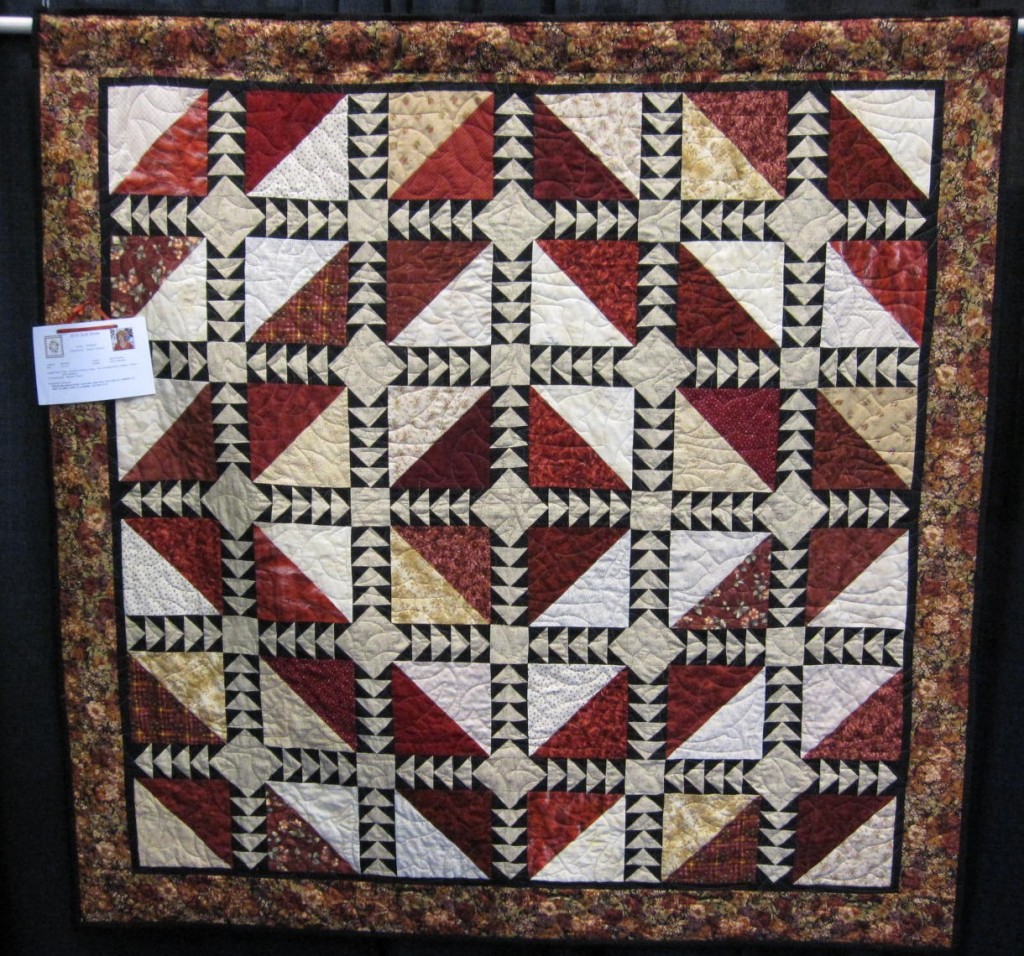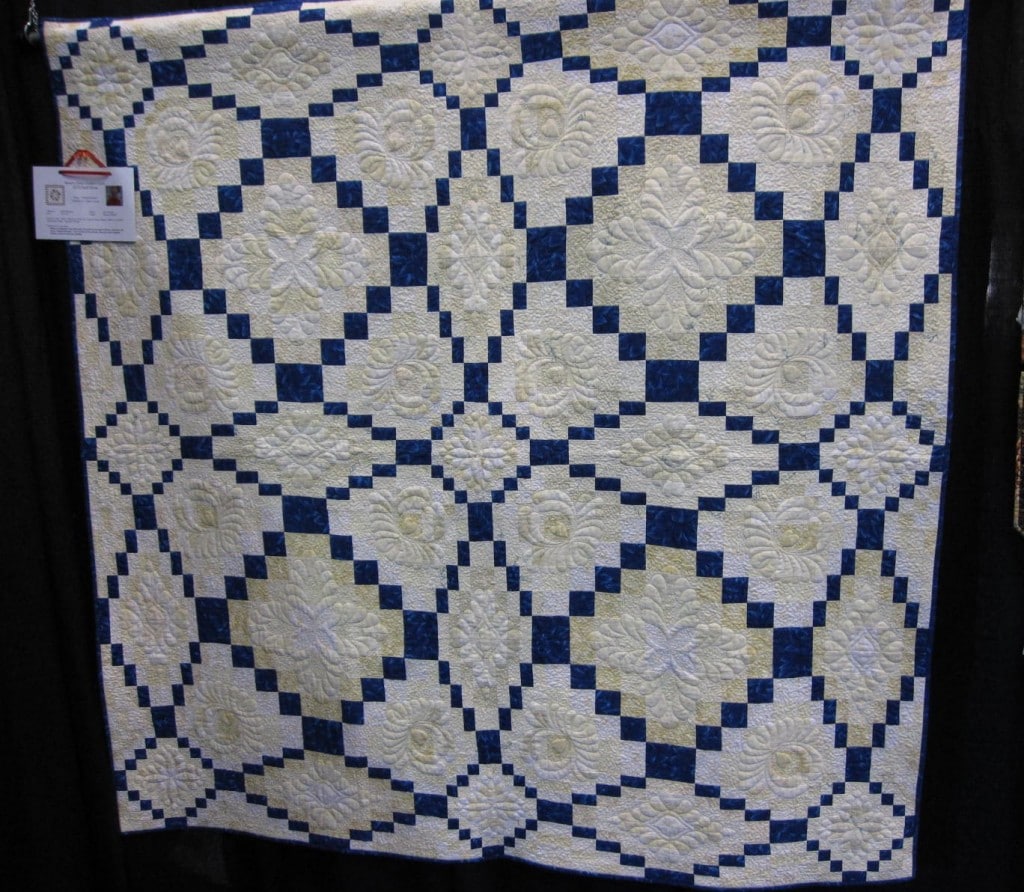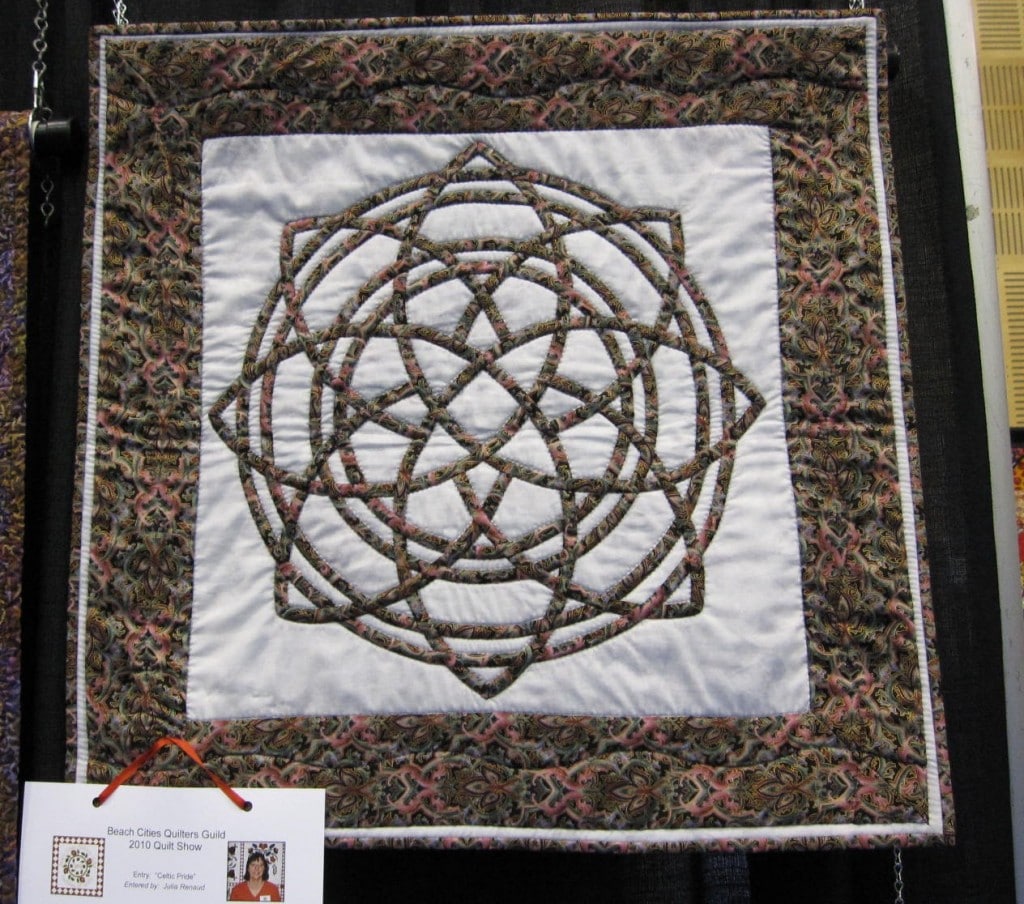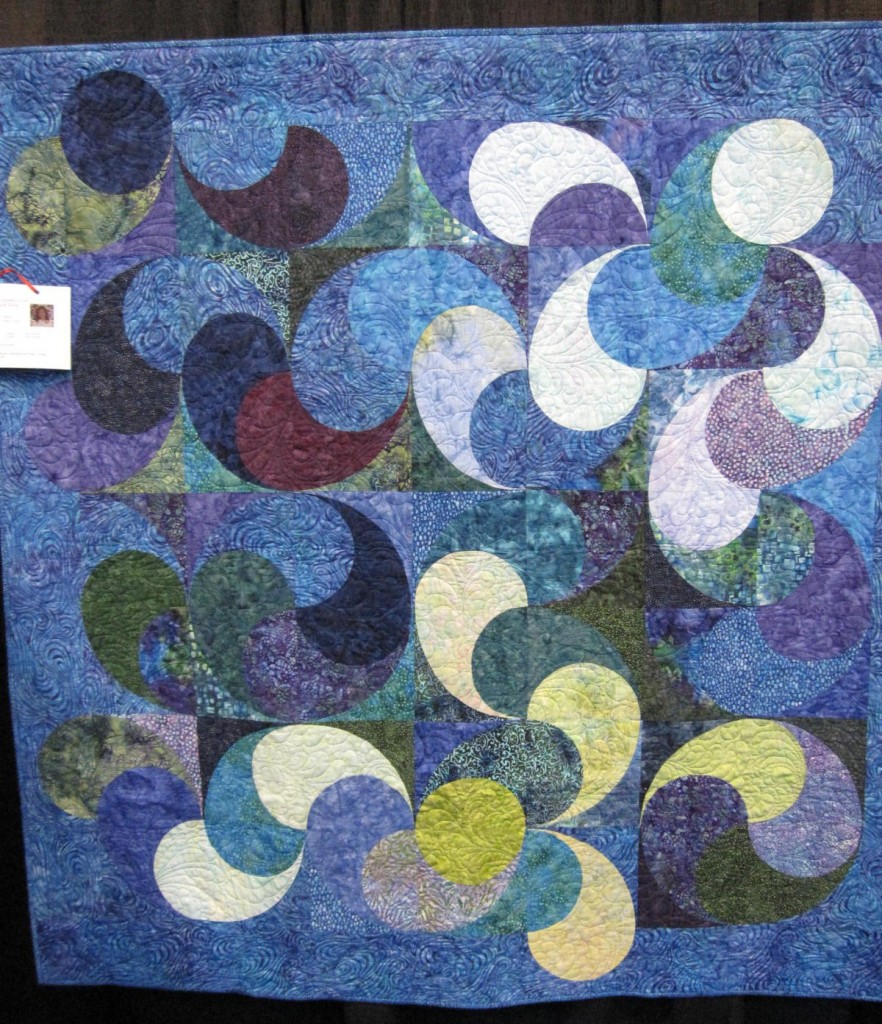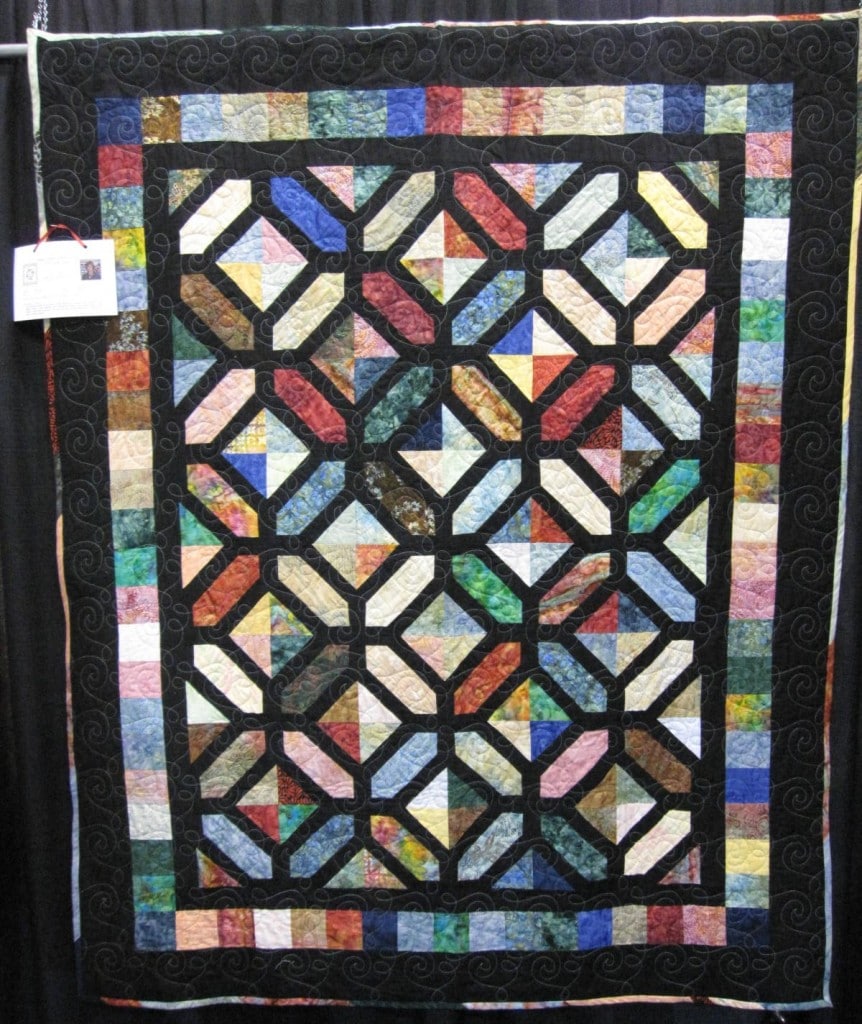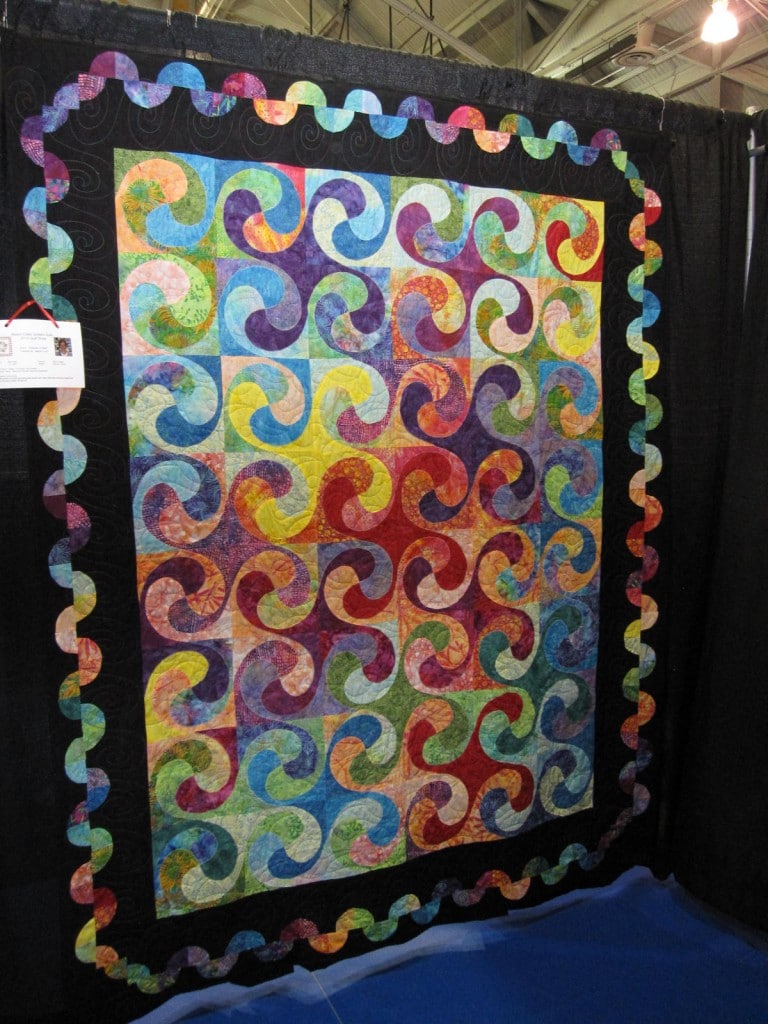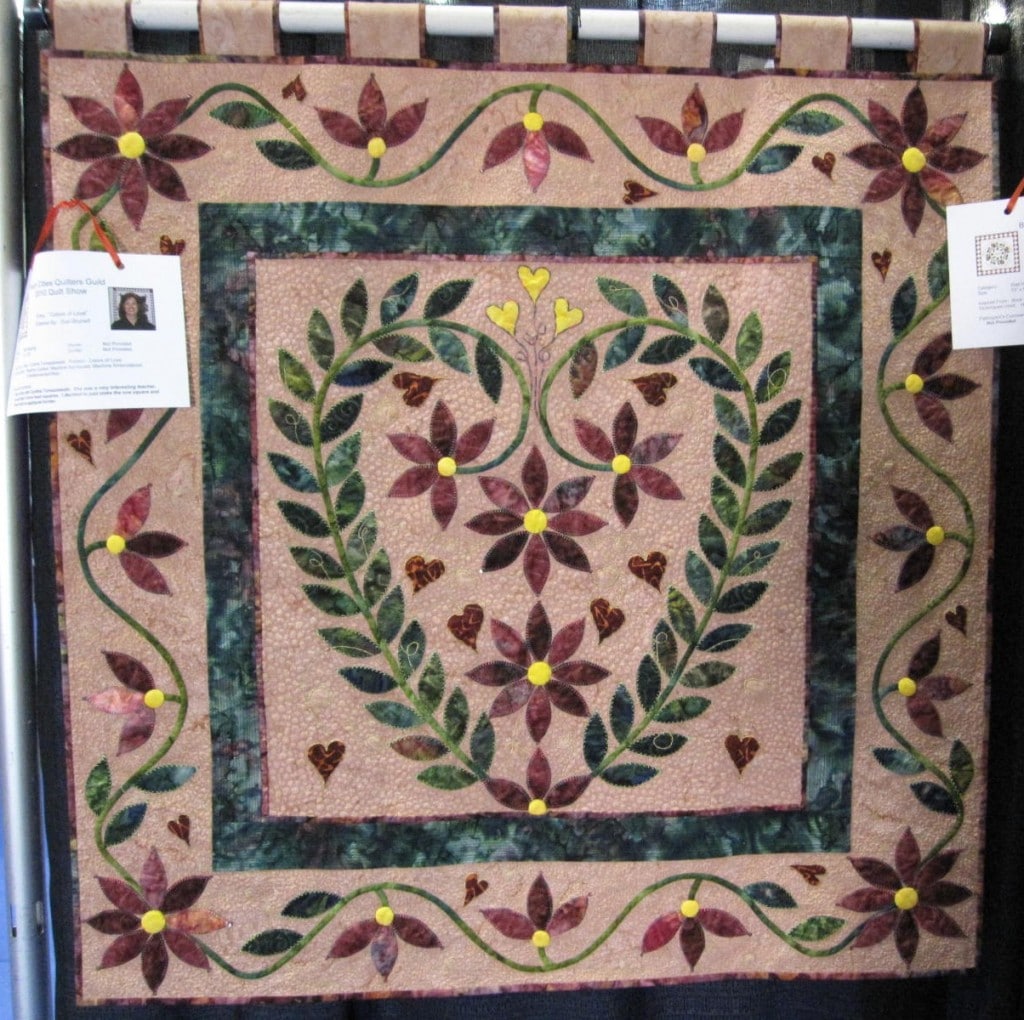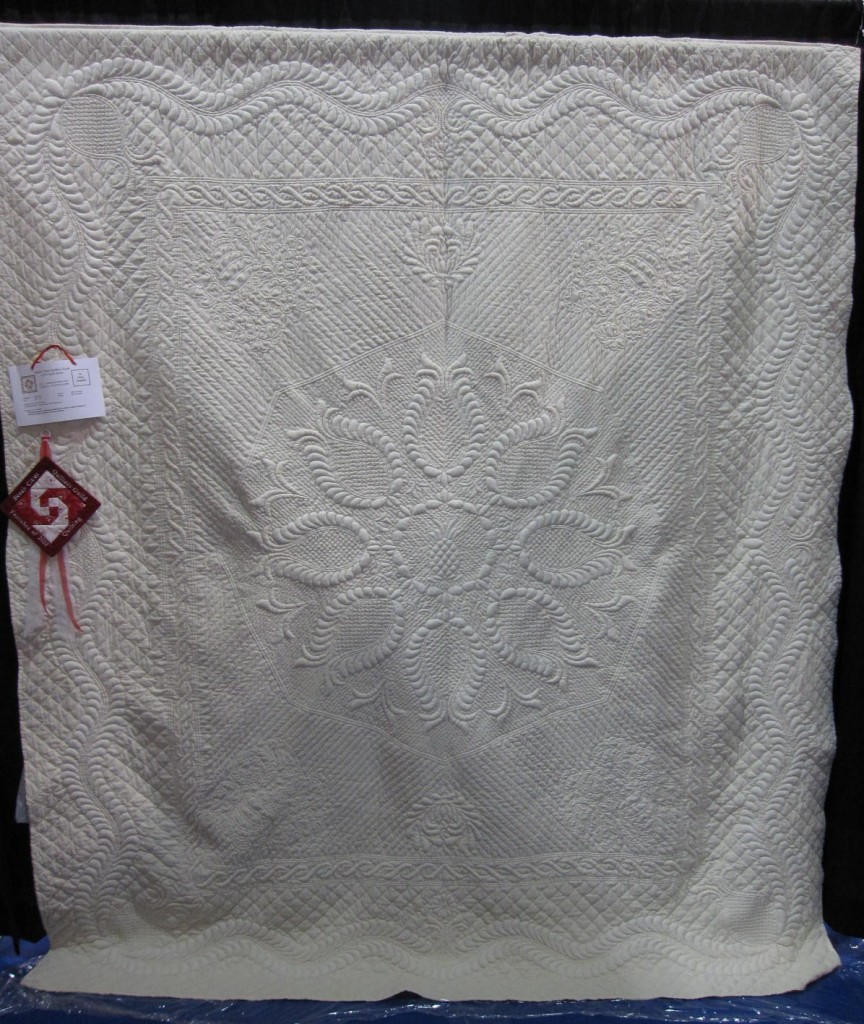 This quilt is called a "Whole Cloth Quilt" as it is made of a single piece of fabric, sometimes 2 pieces if it's for a big bed and the fabric isn't wide enough, in other words it's not made up of 'blocks' which most quilts are made of. The remarkable thing about this quilt is it is ALL hand quilted.There is a closeup of the stitching below. As you can see it won the award for "Quilting" (the red square hanging to the left of the quilt.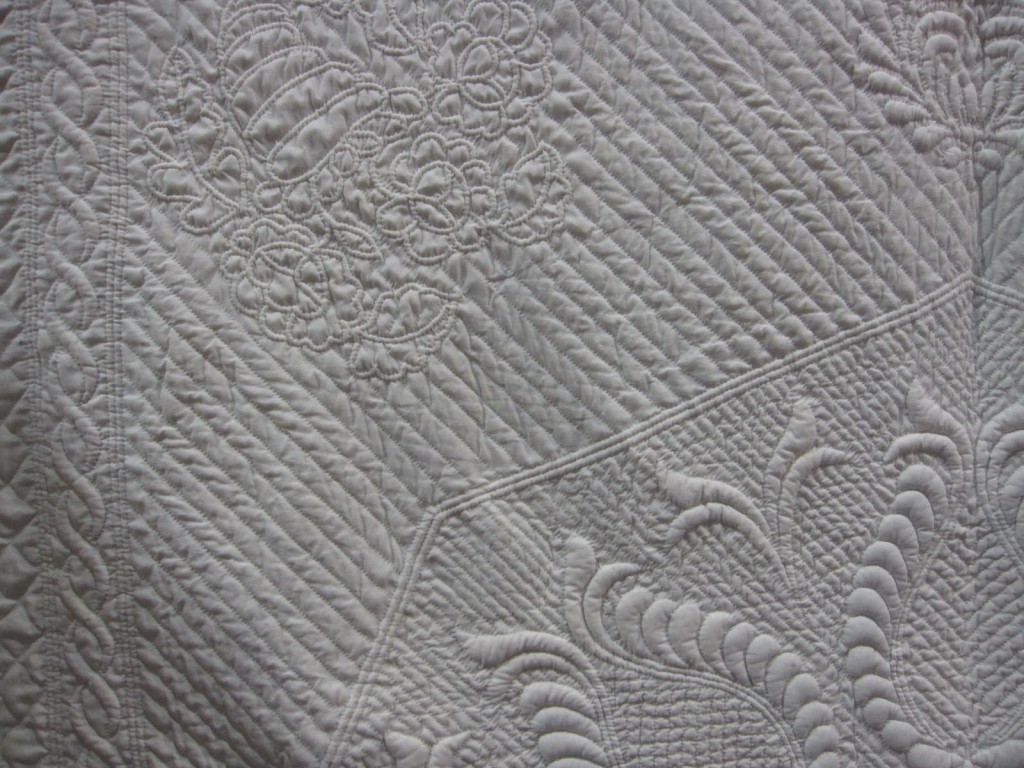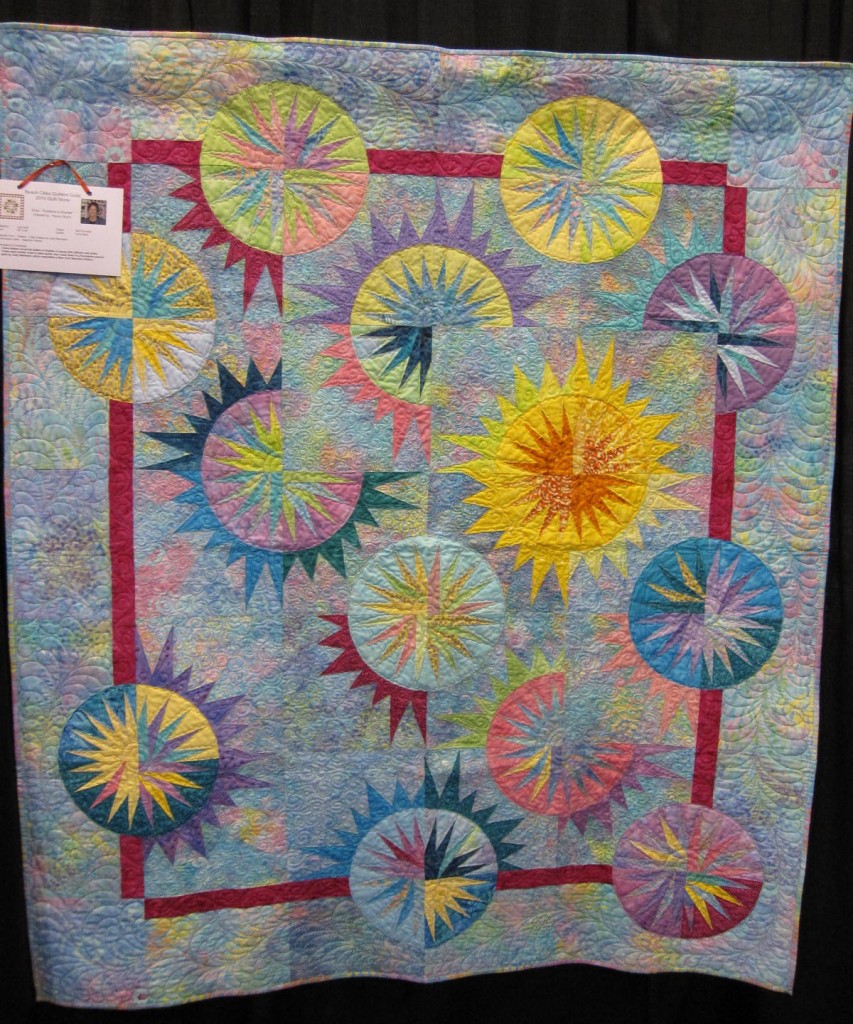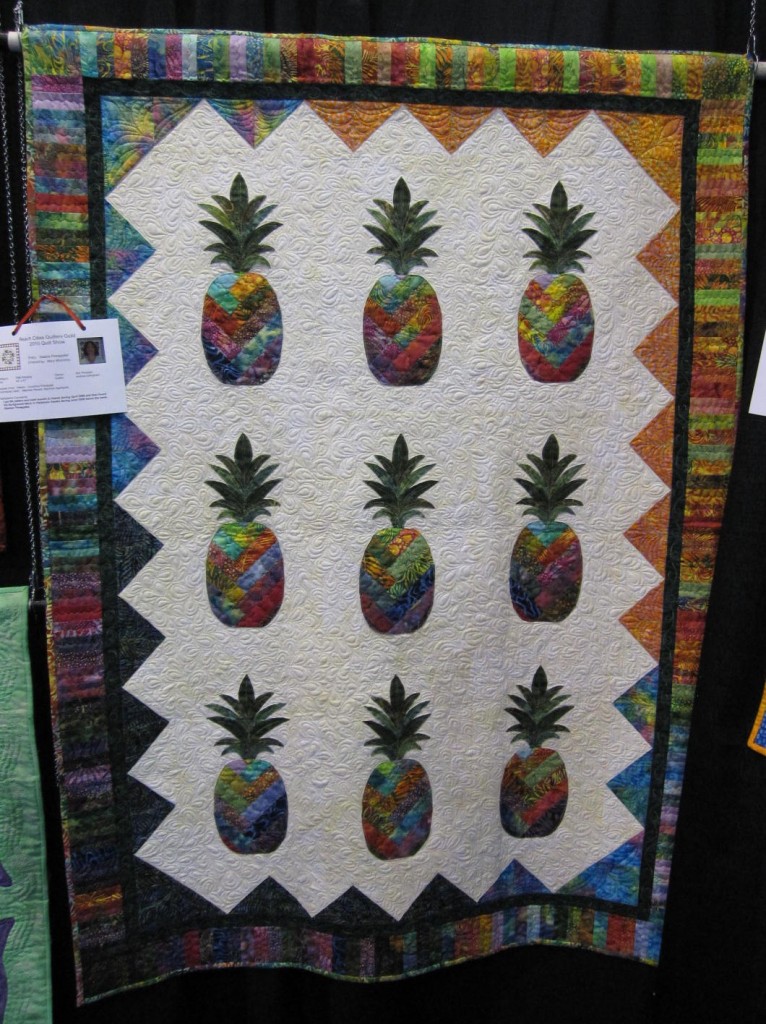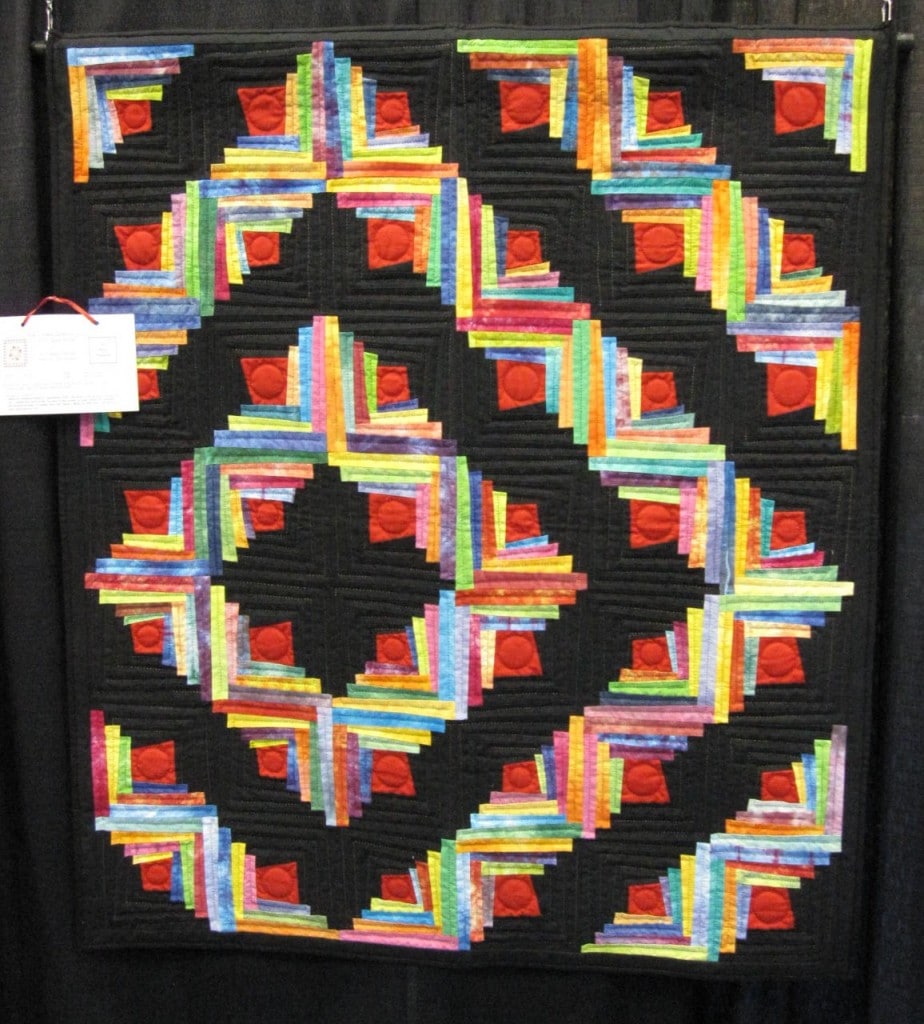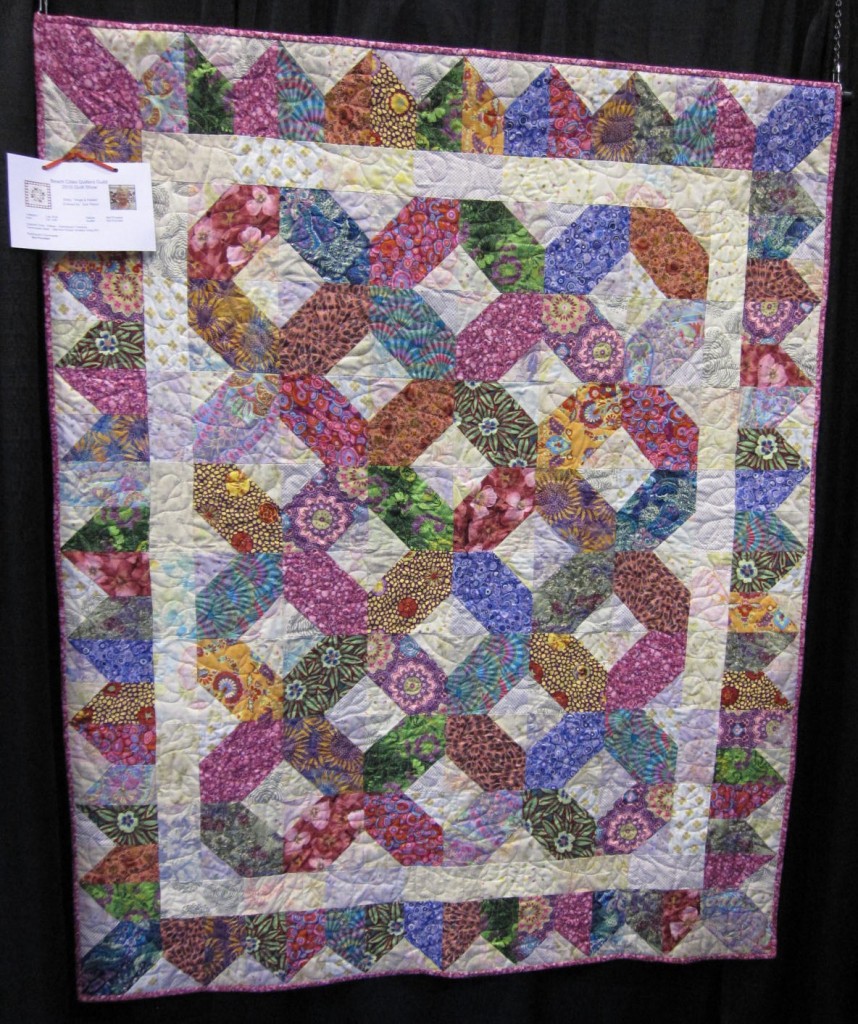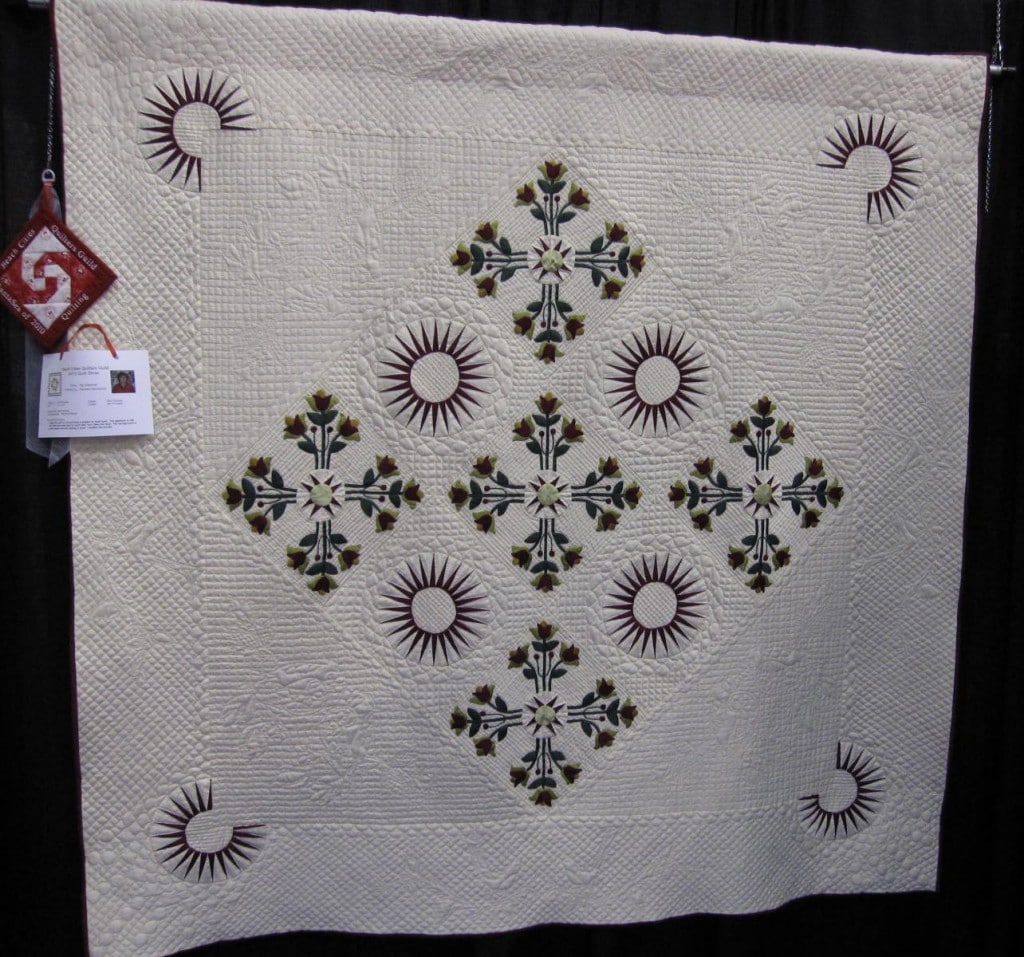 This quilt also won an award for "Quilting" for all the hand quilting done throughout the quilt.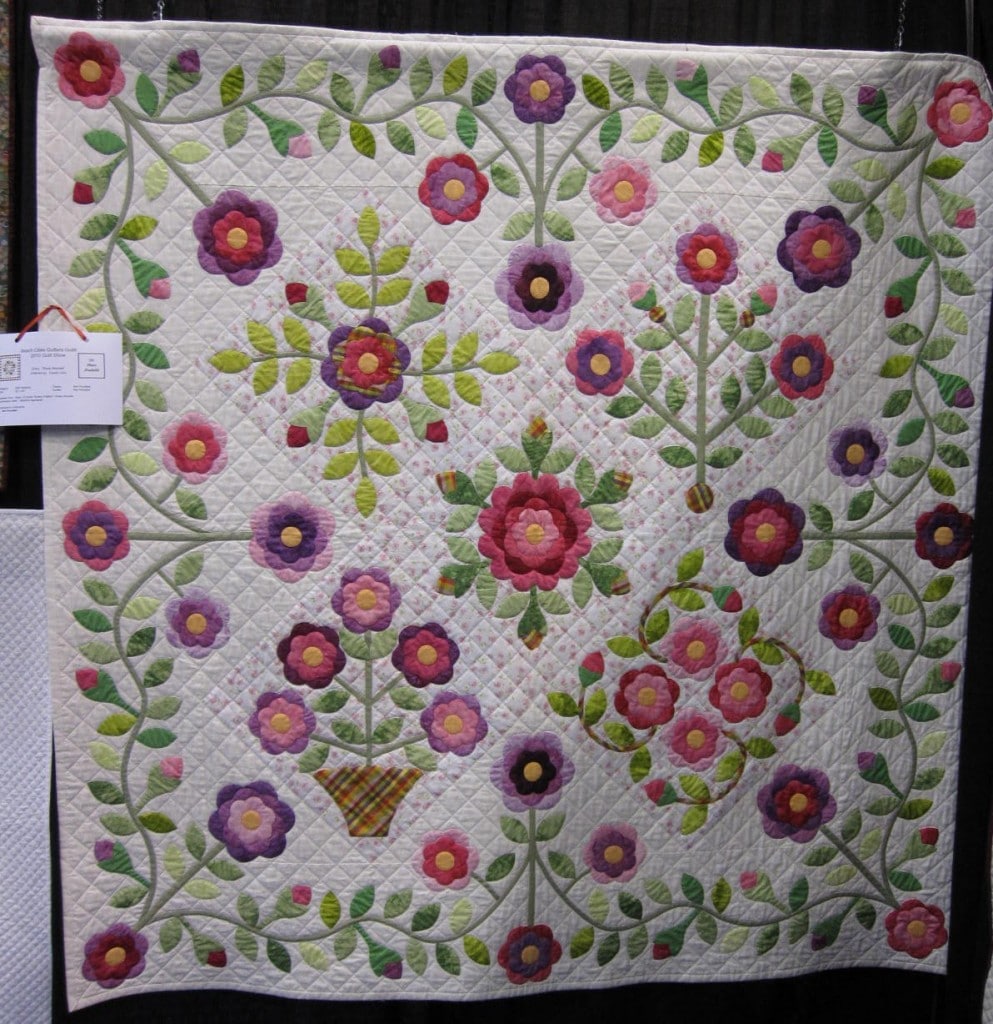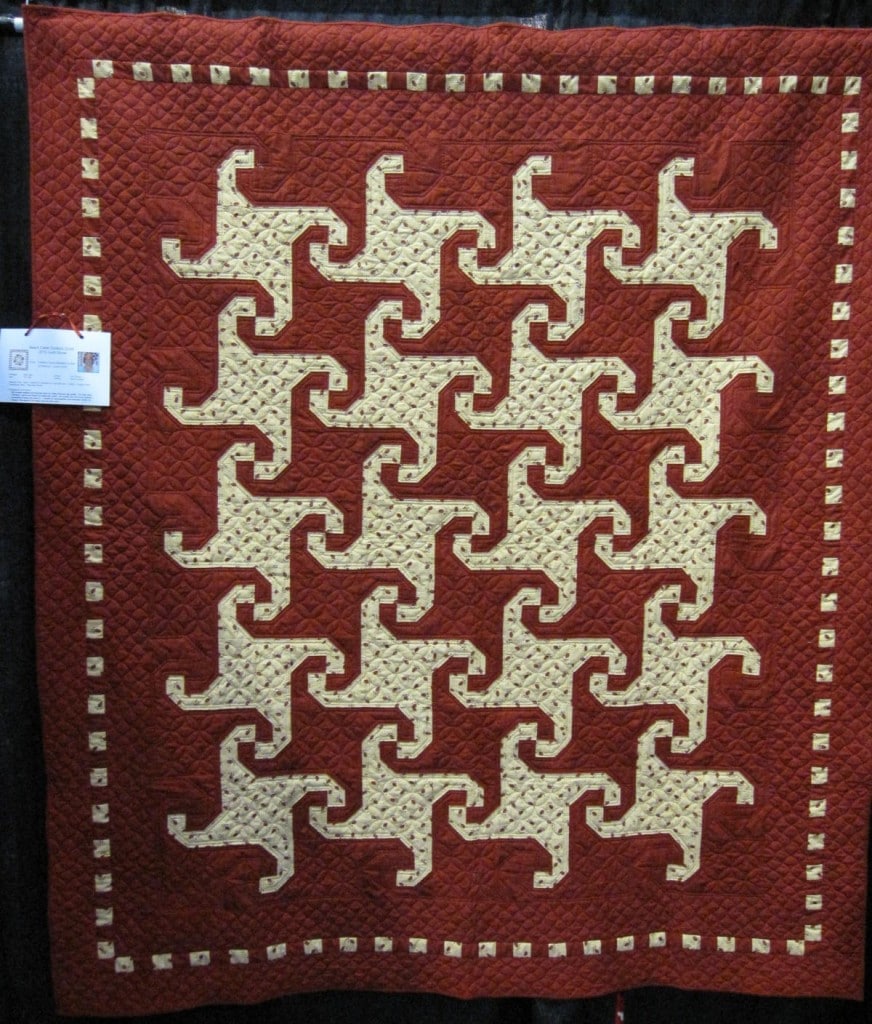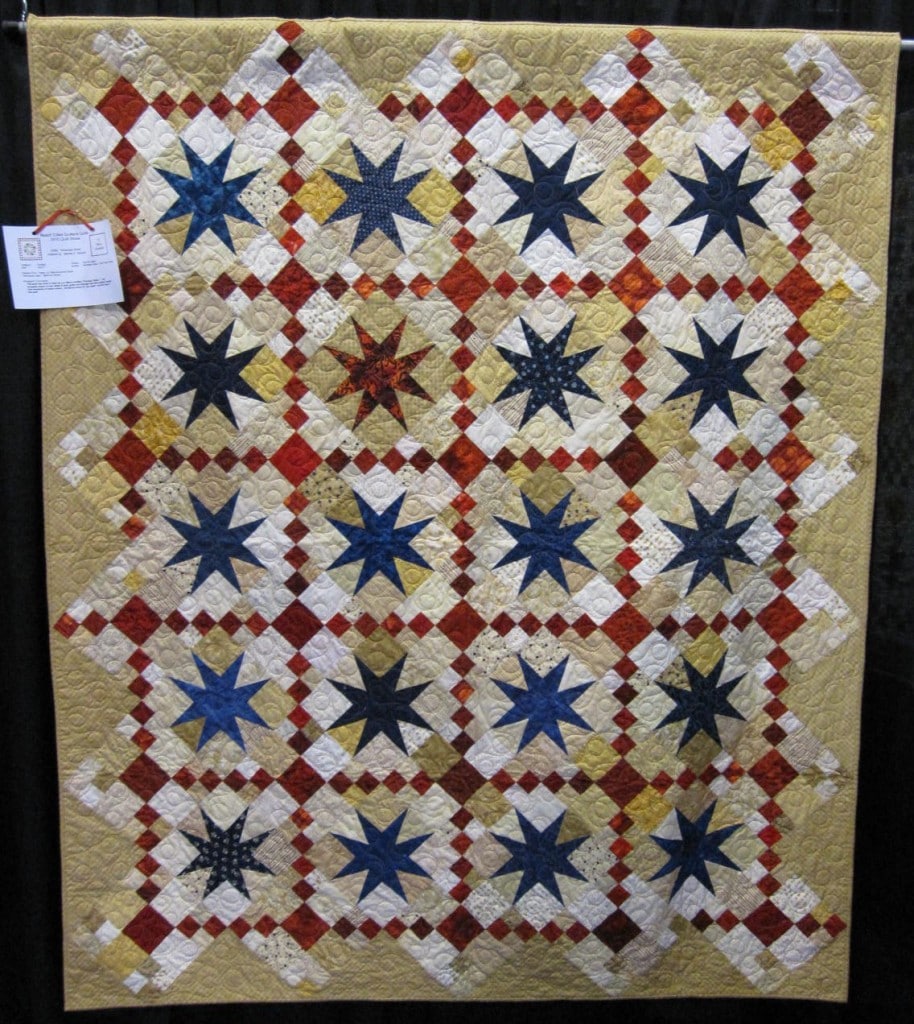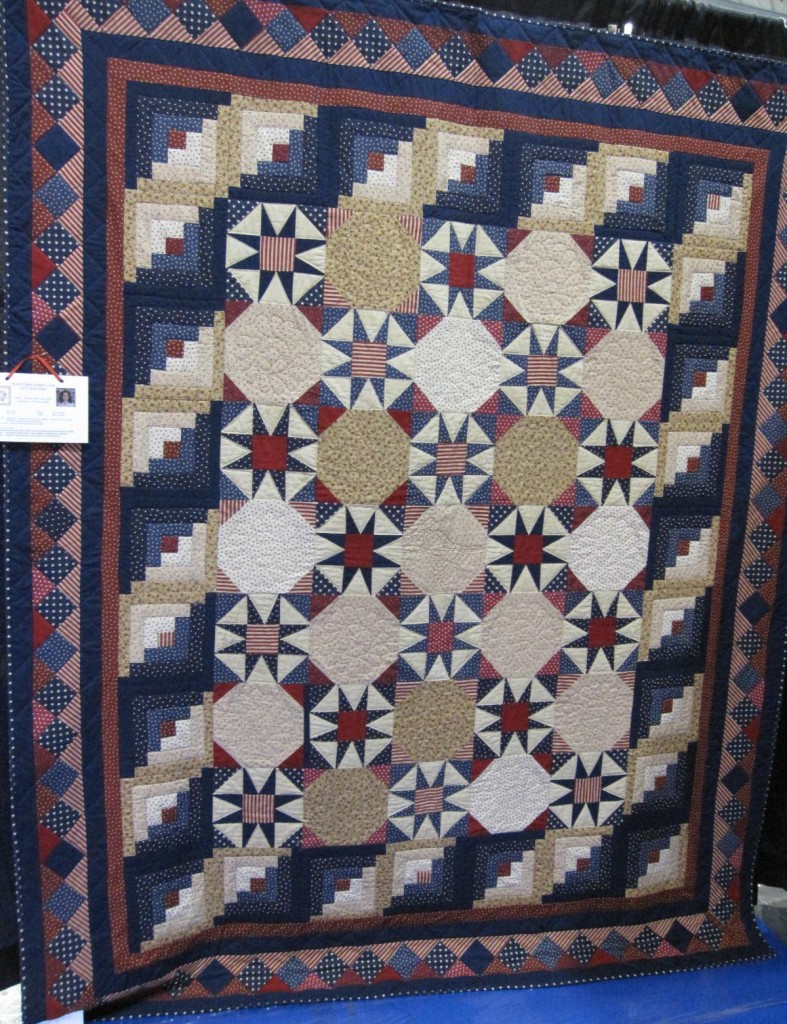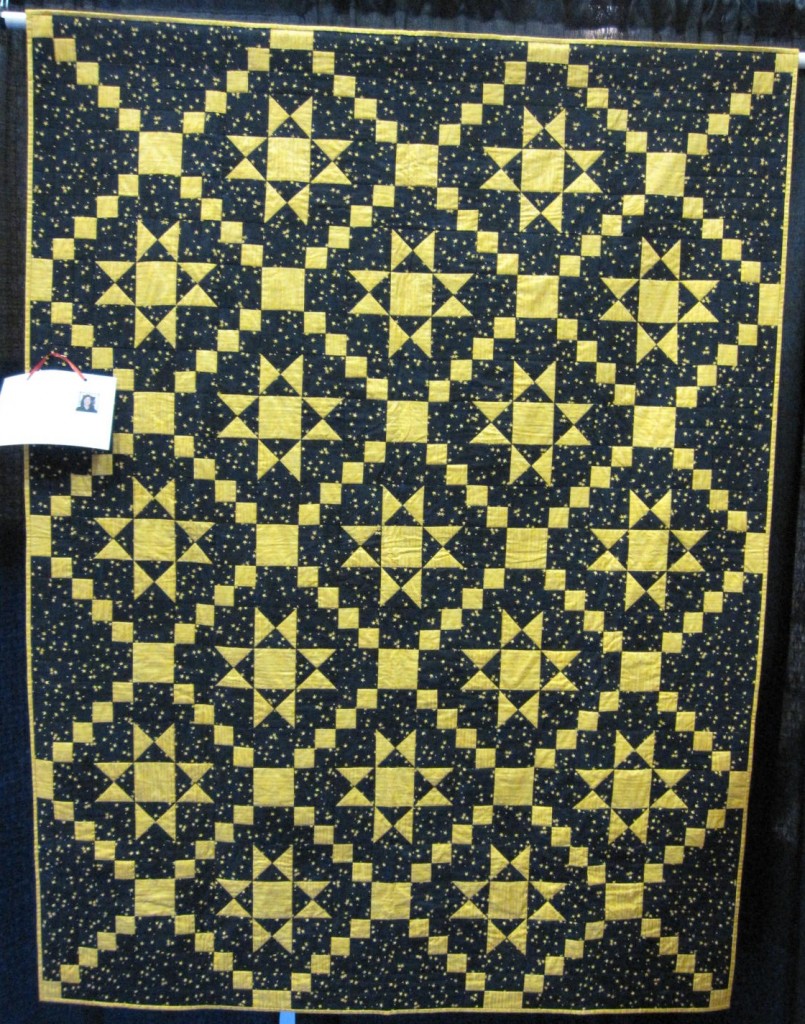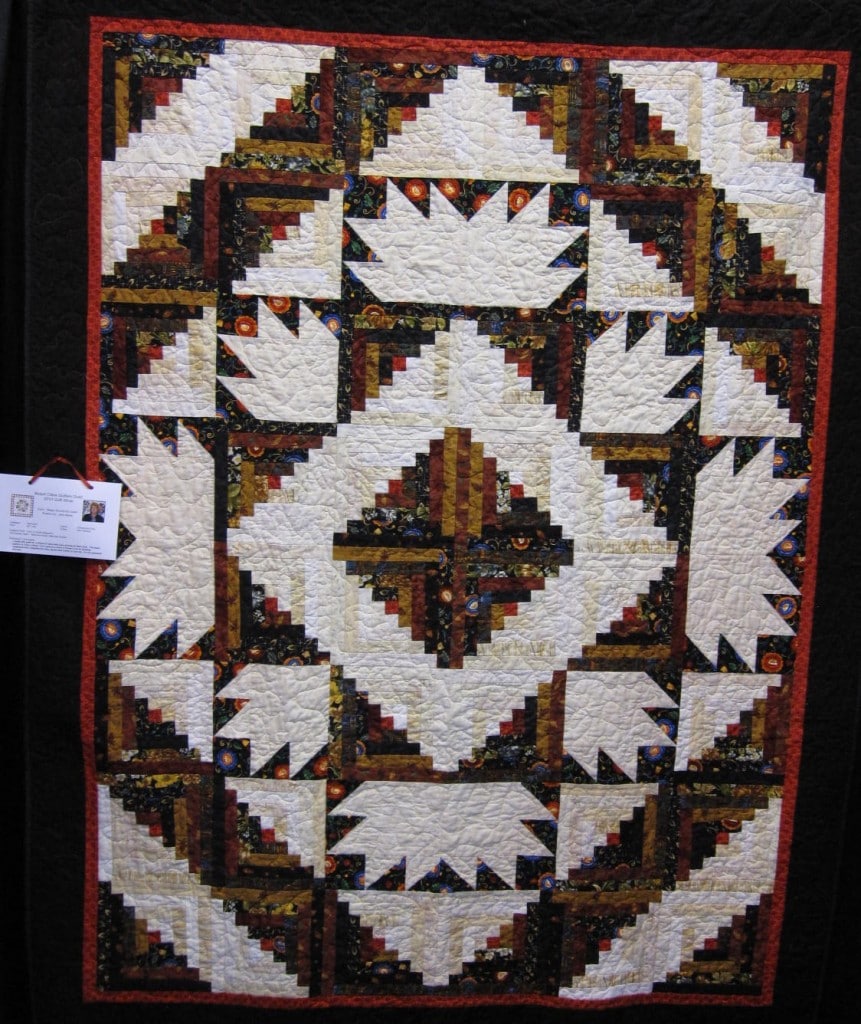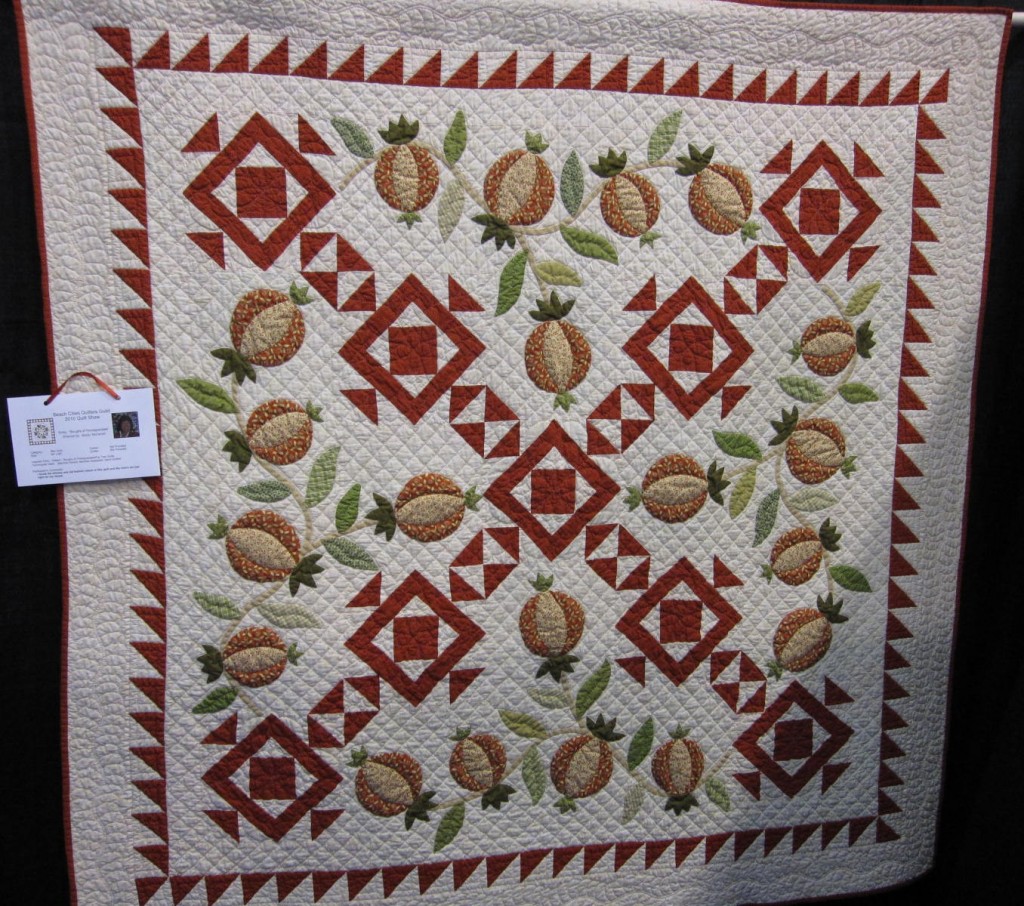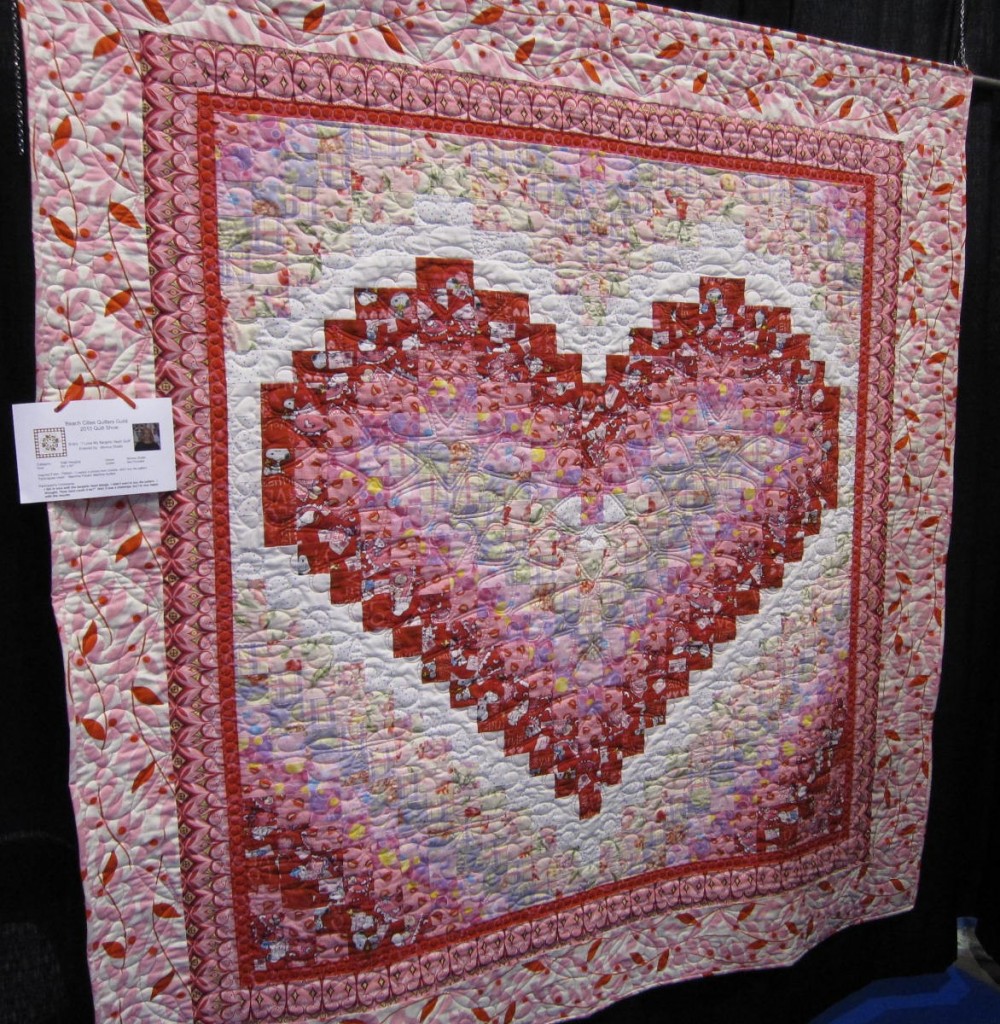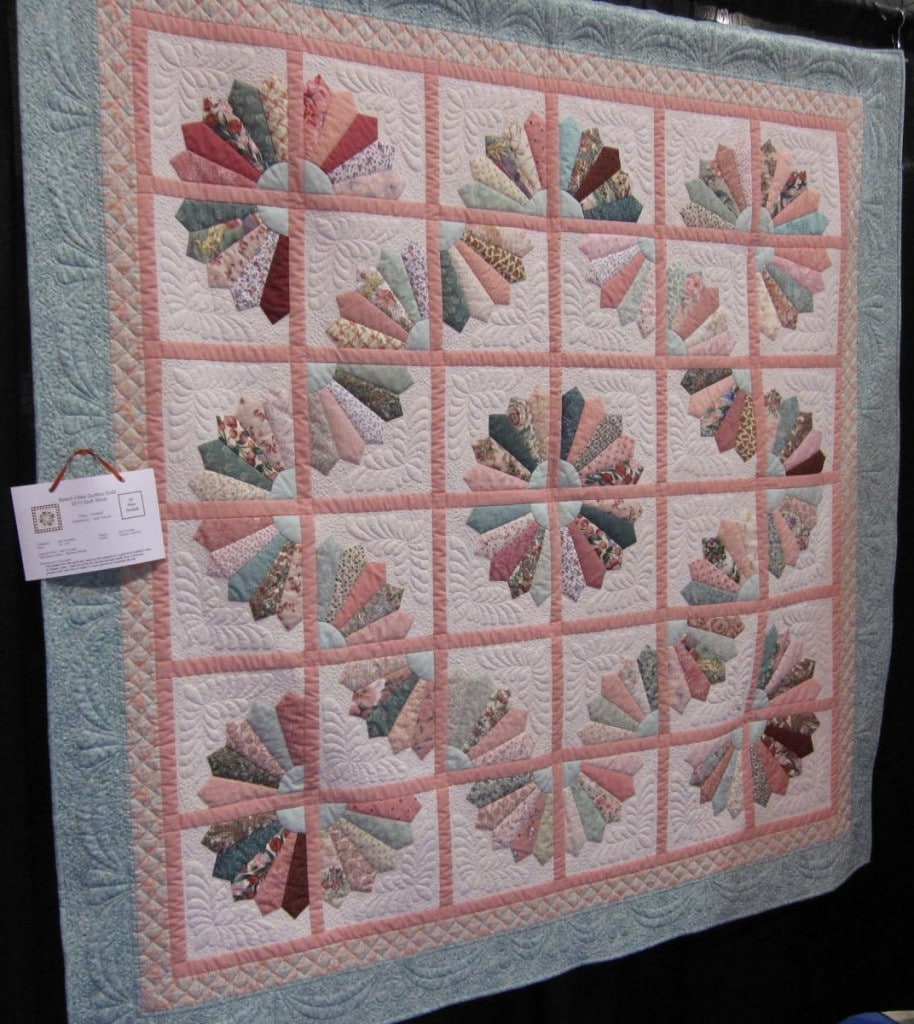 After that lot I'm not sure whether to be inspired or give up! The attention to detail and the quality of the work was awe inspiring, it definitely lets me know I need to be more careful in my piecing but my quilts are for my kids, grand kids and friends and as they seem happy to get anything from me let alone a perfect piece of work I think i shall settle for grateful thanks and leave the perfection to others!