Well, I guess you're never too old to learn!
Posted on August 07, 2010 by sonjabarrie
I have just started to help on a project for Grotto about sommeliers, one of the owners is a sommelier and there are a couple of others that do contract work for the company. One is a Master Sommelier would you believe, and there are only 105 professionals who hold the title Master Sommelier in North America and the American Chapter. Of those 90 are men and 15 are women. There are 170 professionals worldwide who have earned the title Master Sommelier since the first Master Sommelier Diploma Exam in 1969.
So whats my role in all this, well I have been studying internet marketing now for quite a while and I in a moment of madness volunteered to help get a web site up and running that will help people understand wine better and give a sommeliers point of view. It will be part of the main Grotto site .
To start with what is a sommelier? Well Wiki gives this definition:
A sommelier (pronounced /sʌməlˈjeɪ/, French pronunciation: [sɔməlje]) , or wine steward, is a trained and knowledgeable wine professional, commonly working in fine restaurants, who specializes in all aspects of wine service as well as wine and food matching. The role is more specialized and informed than that of a wine waiter.
It takes an amazing amount of time to get to Master level (that's level 4!) and a huge amount of studying and knowledge to actually pass the exams.
Here's something I just learnt, champagne bottle sizes have weird names!
Volume (litres)
Ratio
Name
Notes
Champagne
Bordeaux
Burgundy
0.1875
0.25
Piccolo
"Small" in Italian. Also known as a quarter bottle, pony, snipe or split.
Y
0.25
0.33
Chopine
Traditional French unit of volume
Y
0.375
0.5
Demi
"Half" in French. Also known as a half bottle or split.
Y
Y
Y
0.378
0.505
Tenth
One-tenth of a U.S. gallon*
0.5
0.67
Jennie
"White Spirit" in Welsh. Also known as a 50 cl bottle. Used for Tokaj, Sauternes, Jerez, as well as several other types of sweet wines.
0.620
0.83
Clavelin
Primarily used for vin jaune.
0.750
1
Standard
Y
Y
Y
0.757
1.01
Fifth
One-fifth of a U.S. gallon*
1.5
2
Magnum
Y
Y
Y
2.25
3
Marie Jeanne
Also known as a Tregnum or Tappit Hen in the port wine trade.
Y
3.0
4
Jeroboam (a.k.a. Double Magnum)
Biblical, First king of Northern Kingdom. "Jeroboam" has different meanings for different regions in France.

[

5

]

Y
Y
4.5
6
Y
4.5
6
Rehoboam
Biblical, First king of separate Judea
Y
Y
5.0
6.67
Franzia
The Wine Group
6.0
8
Imperial
Y
6.0
8
Methuselah
Biblical, Oldest Man
Y
Y
9.0
12
Mordechai
Biblical, Jewish uncle of Esther Queen of Persia
Y
Y
9.0
12
Salmanazar
Biblical, Assyrian King
Y
Y
12.0
16
Balthazar
Early Christian folklore, one of the Wise Men
Y
Y
Y
15.0
20
Nebuchadnezzar
Biblical, King of Babylon
Y
Y
Y
18.0
24
Melchior
Early Christian folklore, one of the Wise Men
Y
Y
Y
20.0
26.66
Solomon
Biblical, King of Israel, Son of David
Y
25.0
33.33
Sovereign
Y
27.0
36
Primat
Y
30.0
40
Melchizedek
Biblical and other Middle East religions
Y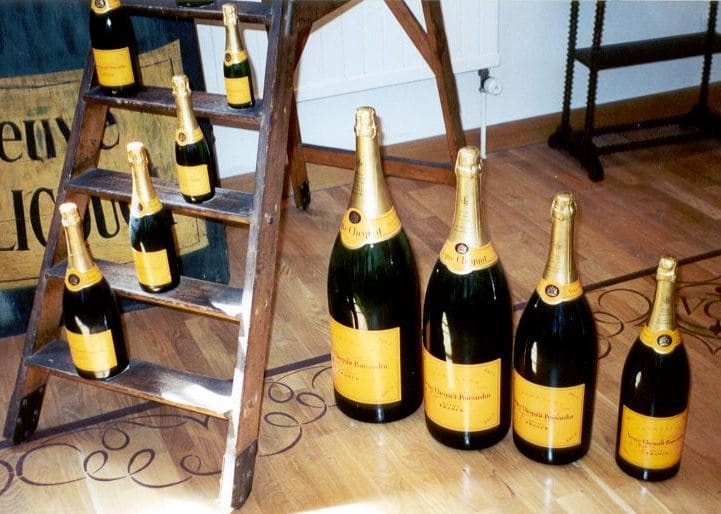 Different sizes of Champagne bottles and its names;
on ladder:
quarter ("piccolo") = 0.188 liter (smallest)
half = 0.375 liter
full = 0.75 liter
magnum = 1.5 liter
on floor:
Jeroboam = 3 liter
Methuselah = 6 liter
Salmanazar = 9 liter
Balthazar = 12 liter (largest)