The saga continues…..
Posted on February 12, 2016 by sonjabarrie
What does Tempting Fate Mean?

As I said in my previous post "looks like we are finally on our way." Huh, we should be so lucky.
On the freeway, about another 20 miles down the road there is an alarm going off. No lights blinking on the dashboard, just this alarm that started off faint and is getting quite insistent. OK. Let's pull off again. Next exit shows some gas stations, one to the right and 2 to the left, so we turn left off the freeway into… nothing, nada, zilch, zip. You turn left off the ramp, under the freeway to a t-junction with a stop sign. No gas station, no signs, just a narrow road that goes left or right.
Great! What have I ever done to deserve this? REALLY??? What? Do you thing that just for once we can get a break? I am completely flabbergasted, dumbstruck, you name it. I just can't believe it.
The map shows the road to the left goes to a dead end and there really is nowhere to turn around so we have no choice but to go right, onto a very narrow road through what looks like an abandoned industrial estate with a bridge no less. How low is that bridge? It's anyone's guess. But we have no choice.
We decide at this point to turn off the engine and give our ears a rest from the alarm and with the vain hope that when we restart the engine the alarm will have gone away. We are actually parked illegally on the corner but there was nothing else for it, once we turn to the right no one is getting past us. At least with us here cars can get round us if they need to, not that we saw another for the 15 minutes we sat there trying to calm down.
We finally restart the engine and… no alarm. Yeah!
Off we go down this narrow winding lane, I feel like Alice in Wonderland down the rabbit hole. Am I going to wake up and find this has all been a nightmare or will I end up as the Mad Hatter? Will this never stop?
We do actually make it back onto the freeway at the exit we got off, it was a circuitous route but at this stage of the game I am just glad the road actually went somewhere and didn't dead end again.
On the freeway, within a mile or so there goes the alarm again. Next exit we pull off again and check everything that seems obvious. Brakes are off in the toad, the toad is in neutral, wheels are turning on the dolly. All the brake lights work. No leaks that we can see under the bus. We are pretty stumped and all the time the engine is off the alarm is off.
There are times when you just have to give in to Fate.

Back on the freeway we haven't gone but a mile or so before that bloody alarm starts again! Using the Allstays app on my iPad we are able to see a Walmart a couple of junctions down that allows overnight parking as long as you ask.
We pull into the Walmart parking lot and it's now 4:30 pm on a Sunday afternoon and we have driven the grand total of 50 miles in 6 and a half hours. To make matters worse, apart from Walmart, nothing is open, all the restaurants are closed what few there are. Welcome to small town America. We are exhausted, cold and hungry and obviously here for at least the night.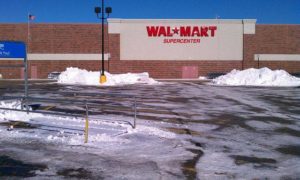 There are times when Wal-Mart is a life saver!
Although the bus is still in winterization mode it is still self-sufficient, we turn on the furnace, make a cup of coffee and make the best of it.
Tomorrow is another day and according to Google Maps there's a Truck Repair service center just a few miles away.