The Incredible Shrinking Woman!
Posted on April 09, 2010 by sonjabarrie
It's true, weird but true. Hey, there's not much in my life that isn't weird, wacky or could only happen to me but how does one shrink when there is no bone loss? The only thing I can think of is the disks between the vertebrae are flattening which would explain the 2 disks that had chunks fall off.
Went to see my new Doctor (new insurance new Doc) as my eye is playing up again and I needed an appointment with a cornea specialist, nothing new there then, and because I am a new patient they did the complete physical. I measure 5 ft 4 3/4 inches (164.5 cm). I used to be 5 ft 6 inches (167.6 cm). I knew I was getting shorter, either that or Tim is still growing but over an inch at my age is pretty unusual. It often happens in women after menopause as osteoporosis sets in and the bones shrink but I have really healthy bones thank goodness but it appears my disk degeneration is hereditary as they have no other explanation for it.
Anyway, by the time I'm 80 at this rate I shall be 3 ft tall
They also sent me in for a mammogram, gives a whole new meaning to the word pancakes! I swear if a guy had to get that done to his testicles I can tell you right now they would have found a completely painless way of getting it done within weeks!
On a lighter note I joined a quilt guild last night thinking it might be a good way of meeting people. When you have kids or work in an office you get to meet other parents or make friends with co-workers pretty easily. When you sit in your home office you get 4 walls and the radio, not conducive to making friends. Well what a surprise, this is only one of three quilt guilds in the area, this one is called Beach Cities Quilt Guild and I know Utah is the quilt capital of the world (making babies and quilts is the main Gross Domestic Product!) but this was amazing. I never realized so many people in California like to quilt.
There were over 300 hundred people there and they have a membership of 473+. Amazing. So I signed up for a couple of things just to be able to actually meet someone as it was a bit intimidating and the level of their quilt making really put me to shame not that I ever think of myself other than mediocre at best. Don't Care! I enjoy it.
Here's an example of some of their work they showed.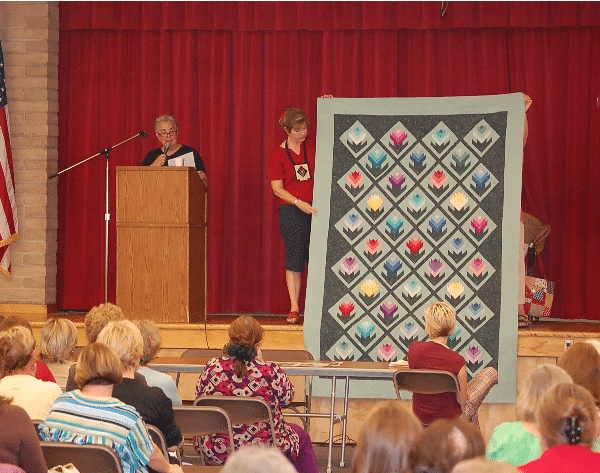 Beach Cities Quilt Guild, there are so many people they use a huge hall to seat everyone.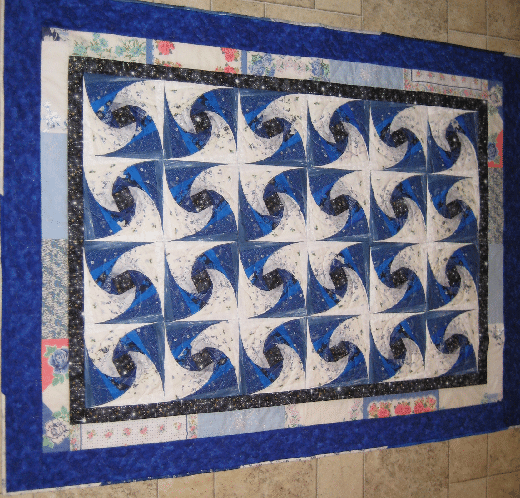 Beach Cities Quilt Guild Blue and White Quilt, my favorite color: Blue! This looks way out of my league, sewing curves is hard.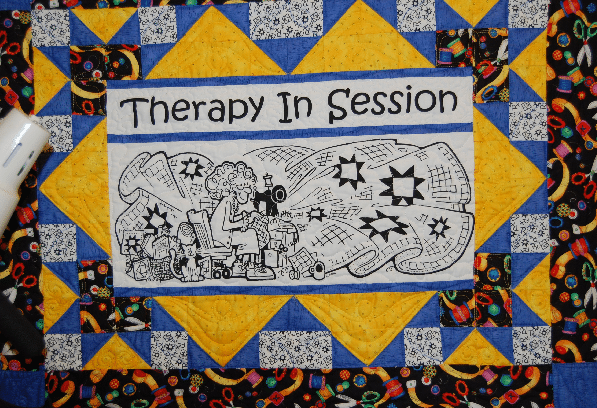 Beach Cities Quilt Guild: Therapy in Session. I love this one and I am assuming the center is a pre-printed panel. that makes it much easier to make and I have to admit this is my mantra. Sewing is Therapy!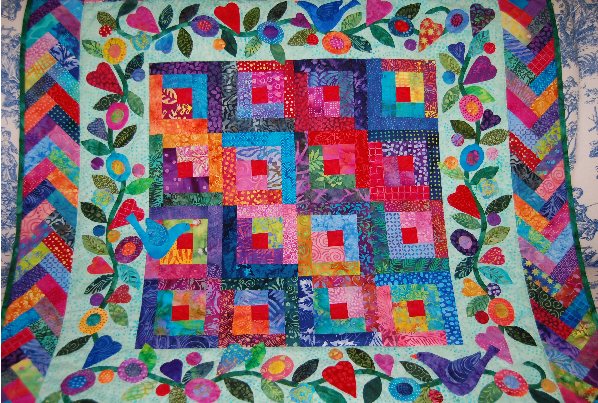 Beach Cities Quilt Guild. All of those flowers in that border have been hand sewn, that takes dedication (and good eye sight LOL)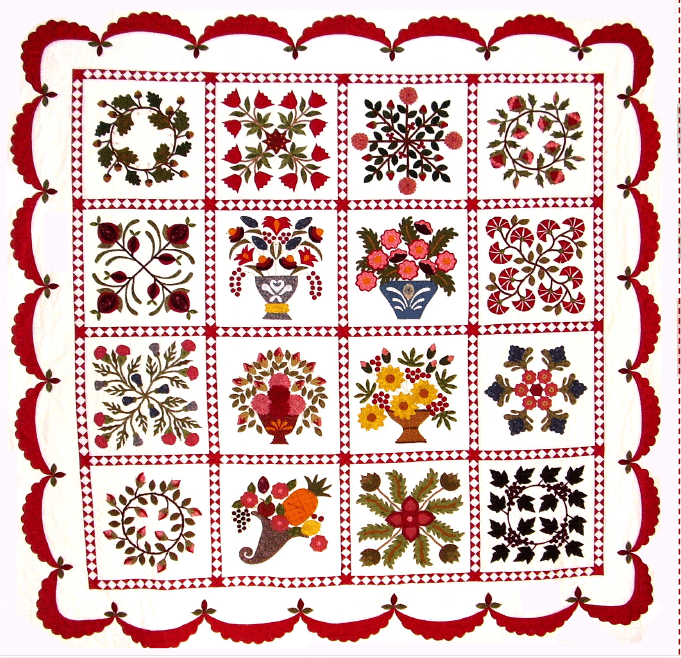 Beach Cities Quilt Guild Raffle Quilt: FantaSea of Beauty. This quilt is really special. Every block has been hand appliqued by various members of the guild and this quilt is being auctioned off with tickets just $1 or 6 for $5. When you see it in person and see the detail and craftsmanship that went in to it, it just makes your jaw drop.
There is a quilt show June 5th and 6th in Aliso Viejo (near where I live) and they will draw the winning ticket at the show. I'll be at the show just coz they are fun to go to but winning this quilt would be a real coup. I can't imagine ever making anything this fantastic.