Sawtooth Campground February 2017
Posted on February 11, 2017 by sonjabarrie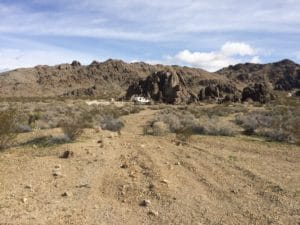 This is such an amazing place, literally miles from anywhere yet we have a good cell phone signal with our WeBoost booster such that we can both work online without any interruptions. And the view is amazing.
It's February and we're 3000 feet up so it is not always the warmest but compared to Utah where our house is it's the tropics! It got up to the mid 70s during the week and while it is only going to get to about 60F this weekend, that's still 40 degrees warmer than Utah.
This park is pretty cool, there's only 15 spots to park your RV or tent and each of them have a covered concrete picnic table and a fire pit. There's no electricity, garbage cans (pack it in, pack it out), water or wifi but…it's free! There are pit toilets but with no campground host you know there's no toilet paper. Not having those kinds of services are not a problem for us, we are lucky enough to have big enough tanks that we have actually gone 11 days before needed to dump and even then it was because we were leaving anyway and I bet we could have gone a few days longer.
We also have 1280 watts of solar panels and 900 amp hours of AGM batteries giving us about 450 amp hours of usable power. Enough to power all our laptops, monitors (we have 5!) plus phones, tablets etc. and one sunny day gets us to full battery charge no problem. Even a cloudy day will put a charge to the batteries though if they do get too low we also have the generator which we really don't like to use, even though it is pretty quiet and you don't have to walk far from the rig before you can't hear it any more, you still know it's running and I'm always cognizant of disturbing others.
It does mean a ton of laundry to catch up on when we finally get to a park to hookup and dump the tanks but that's a small price to pay in order to stay in such beautiful places. That 11 day stint was at Quartzite for the Xscapers Convergence. Now that was fun, we stayed there for just under three weeks in total, visited the 'Big Tent Event', chatted with other Xscapers around communal camp fires, had an amazing pot luck, listened to lots of fellow Xscapers give talks about everything from Instant Pots to Photography to Drones to Solar and lots in between.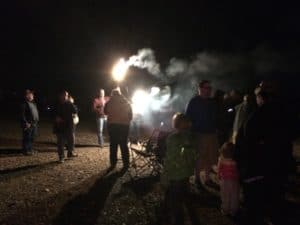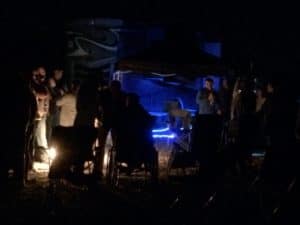 Here's some Xscapers fun nights, Pot Luck, Trivia Quiz, Fireworks, Communal Campfire.
We even had a Sunday drive to the 'Desert Bar', an amazing place 5 miles down a dirt road. They had a live band, tons of food and beverage choices and an amazing atmosphere. It's really fun getting to meet other like minded people who live and work on the road as we do. One of the best parts for me is the unknown, you never know who you are going to meet or where you are going to end up.
It took us about 45 minutes to get from the desert area where we were camping to the Desert Bar, and I was amazed when we arrived, I expected this run down 1880's shack that sold a few cans of beer. Instead there was a huge stage with a really good band, about 5 eateries, tables down by the stage or up above where it wasn't so loud, most tables were under cover from the blazing sun (yes that day it was hot in the sun) and three bars that sold any cocktail, beer or wine you could imagine. It's unexpected surprises like that that will stay with you forever. On top of which I got to meet some really cool people there from other Quartzsite meetups such as Escapees, Rubber Tramp Rendezvous, gem collectors, rock hounds… the diversity of the human race is astounding.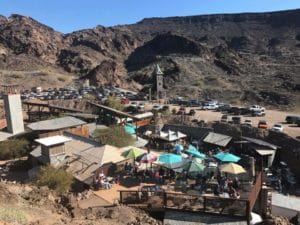 The Desert Bar in the middle of nowhere!
During the Xscapers convergence we even got to tour a ton of the rigs that were there and got to see how people work on the road. Some have done what we have and made custom desks, others work from their dinette but they all have one thing in common. Wonderlust and a thirst for the open road.
Here I am remembering all this as I sit in utter solitude, apart from Tim there's only one other camper here that I can see though there may another at the very top loop which is behind the mounds of fabulous rocks. It's one of my greatest pleasures, my house has wheels, if I want quiet I can go find it, if I want company I can easily find that too.
I love this life, small house, huge backyard!
One Response to "Sawtooth Campground February 2017"