OMG Gardening in Utah!
Posted on September 09, 2009 by sonjabarrie
What was I thinking? It all seemed like a good idea at the time, every time I went into a garden center or Lowes or Home Depot, there would be plants on sale and I would think, well I can keep them alive until the yard goes in. Baby them a bit, transplant and feed them, they'll last.
That was the easy bit; Lowes had a fantastic sale of $1 per gallon for a load of their perennials and when you can get 5 gallon plants for $5 who wouldn't buy them? Well buy them I did, I just kept thinking I have over half an acre to fill I need them all, until it was time to plant them of course. The same with the trees, after filling the SUV with perennials Tim decided to ask what kind of a deal we could get for the trees they had, crabapple, plum, weeping cherry, apple: they came back to him and said $5 each, he bought the lot, all 20 of them. 3 trips later we have all of them on the back patio along with some 15 to 20 feet tall maples, chokeberry, ash, hornbeam, you name it from a garden center.
These are just a few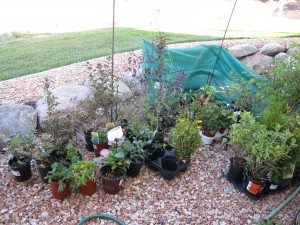 Plants waiting to be put in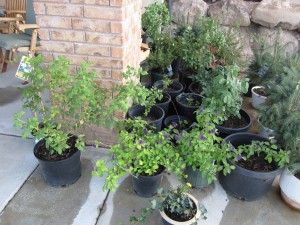 Roses and other plants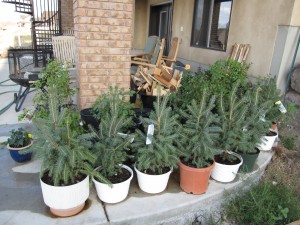 Blue Spruce that will live in Utah
I think one realizes one has made a bit of a mistake when it takes one over 2 hours just to water all the plant and tree pots and I think that one realized his mistake when he had to help do the watering!
We had cleared out one bed of all the rocks (see all the earlier posts for pictures and laugh out loud video), I was sure that would be the only bed, then Tim realized when it came time to do the actual landscaping, how much lawn he would have to mow. Surprising how that thought can turn into 6 major beds plus beds along rock walls and along the whole back fence. Now the yard is in and looks wonderful except all the plants have to go in and as only one bed had been dug free of rocks we are back to the problem we had at the last house which is pulling out huge rocks each time we want to plant something.
Just putting in a small 6inch pot perennial can turn into a nightmare of gigantic proportions. Landscapers by nature are just that, landscapers not gardeners and they don't usually do the work anyway, they contract it out to others who are even less landscapers than them. I was digging in a small bed to put in the said 6 inch pot plant and I came across some plastic, it was thin clear stuff which obviously had originally wrapped the hose they used for the sprinkler system. I started to pull it out, about 20 feet came out of the hole I had made and under that was a 4 foot square piece of blue tarp.
I remembered seeing it a few days before the top soil was brought in and thought should I go get that or will they pick up their garbage, it was such an obvious garbage pile I didn't do it, THEY BURRIED IT right where I was trying to plant some flowers!
NOTE TO SELF: watch landscapers like a hawk!
Now if I can just figure out how to get this 2 feet by 2 feet rock out so I can plant a shrub I shall be happy.