Lake Tahoe and the infinite drive
Posted on September 15, 2009 by sonjabarrie
Well, what do you know, I'm going on vacation! Monday was Labor Day and the night before Tim decided the only way he was going to get some rest was to send me away! Apparently he can't take a break if I'm working (he always feels guilty) and I don't know how to take a break so he figured the only way out was to get rid of me for a few days so he could have a rest.
Too funny. So Sunday night I packed quickly and left on Monday morning for what seemed like the longest drive of my life. It took me 11 hours to get there mainly because I promised Tim I wouldn't do over 75 miles per hour and would take frequent breaks. Like a good little girl I did as I was told and I finally left at 11am and get there at 10pm. The first 9 hours were easy driving and I spent the time listening to my iPod and the 30 Day challenge Plus podcasts. I learnt a whole lot and it really made those hours fly. The scenery was very similar to driving from Salt Lake City down to Las Vegas, not inspiring. The best scenery from Salt Lake to Vegas is via the back roads, some of those roads are amazingly scenic, everything from the Wild West to high desert, roads that really give you the WOW factor.
I have to say the last couple of hours were a bit nerve wracking though. Driving past Reno was just like driving past Las Vegas with all the glitz and glamour but the hard part was all the lanes and traffic, never did like driving in traffic, thank goodness for the GPS although that had me going as it wanted to go a different way than the directions the resort gave me, which way do I go? Driving over the mountains was great, driving down towards Lake Tahoe was fabulous with the sun setting behind the mountains across the lake was amazing.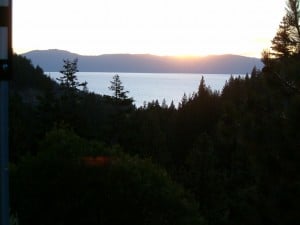 Lake Tahoe on way to resort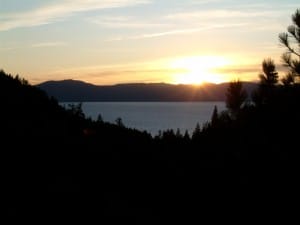 Lake Tahoe on way to resort with the sun going down further, beautiful
Once I got to the resort I had to use the code to open a lock box to get my key because the front desk closed at 5pm only I couldn't open the flipping lock! Finally managed to get it though after several panic attacks and phone calls to their emergency number and went to find my apartment. I was exhausted to say the least and falling into bed sounded like the best thing since sliced bread. I finally found my apartment, up a hill (Lake Tahoe is up in the mountains) and up 50 steps spread over 4 flights. Great! It took me 5 trips to get all my stuff up all those stairs and then I had to take the car to the car park and back up the hill and the stairs again. I have to admit that last trip up those stairs almost did me in; my legs were so wobbly I didn't think I would actually make it.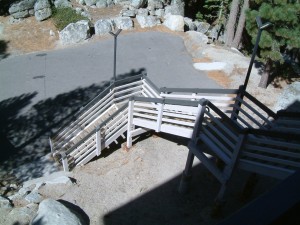 Some of the stairs up to the apartment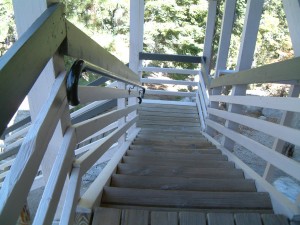 Some more stairs up to the apartment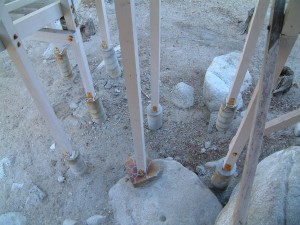 Hope that rock is solid, it's holding up my apartment stairs!
Still I was there and it was a really nice place we had managed to get, 2 bedrooms, 2 bathrooms, nice kitchen and living room. I got squared away, ate and fell in bed. While I was getting ready for bed I kept hearing funny noises but was so tired I didn't really think about it until I got in bed that is. There was something in the wall between the two bedrooms and it sounded like an army. I figured it was a squirrel or something but it was bouncing all over the place, running through the whole wall, scratching at the plug sockets, hitting the lights. Good grief Charlie Brown, all I wanted to do was go to sleep, every time I nodded off the noise level would go up and wake me up. I finally took an over the counter sleeping pill so that I could at least stay asleep IF I ever fell asleep that is!
The next day when I went to register they told me it was probably a chipmunk and one of the receptionist said she had one in her house walls. Good for her but I needed my sleep! They were very gracious though and moved me to another apartment except it was up another floor and another 20 stairs. OMG, at least it was the afternoon and I felt I had the strength to move everything and I have to say the new apartment is really nice. It faces east so I will get to see the sun come up and it has a brilliant view over the valley.
Now for a good nights sleep!
Here's some pictures I took the next day.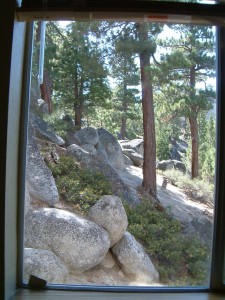 View from bedroom window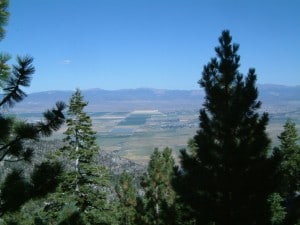 View from the 2nd apartment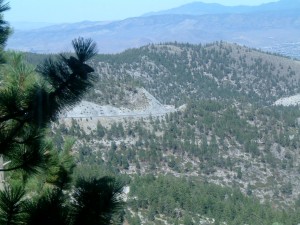 Another view from the 2nd apartment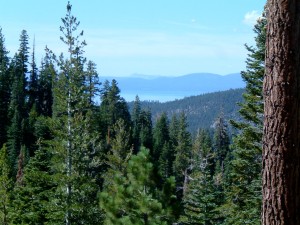 Lake Tahoe from the reception area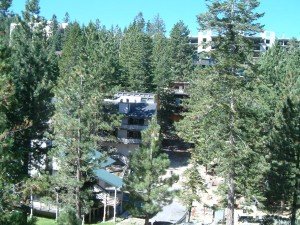 The grounds at Perennial Village Resort, very pretty and very quiet, calm and serene.