Lake Tahoe and a vacation dream
Posted on September 10, 2009 by sonjabarrie
Way back in early June we had booked a week at Lake Tahoe using our time share exchange, it seemed like a good idea at the time, surely they would be finished with the yard and we would have all the plants in and would need a well deserved rest. Mmmmm……… you know what they say about mice and men. Well, that plan went out the window real quick. They didn't start the yard till the end of August so we have been babying plants and trees for 2 months and now we had to rush to get them so we could theoretically go on vacation.
When you start this kind of thing you are sure you can get it done after all how hard can it be to dig a hole and put a tree in it? Well, that's what the landscapers did out front, we let them put the trees in and 4 died. This time we decided to dig the hole and put the trees and plants in ourselves which is where it all goes pie shaped. It took a whole day to dig one of the holes because of rocks and then solid clay at the bottom. It came out looking like crushed cement and we had to go get top soil to plant the tree as there was no way that cement looking stuff was going back in.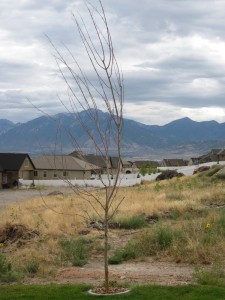 Dead Maple Tree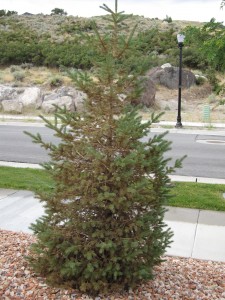 One of 2 Dead Pine Trees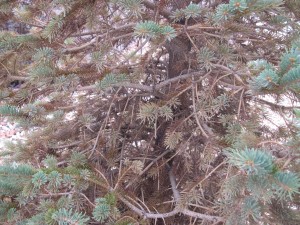 Pine Tree died from the inside out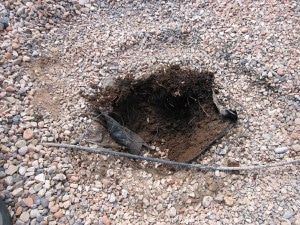 Horrible wet brown hole!
Another hole seemed OK till we got near the bottom and the clay was solid, wet brown muck. It came out in slices and you could have made pottery with it. You can't plant in that, not and have anything grow so we had to dig down another 6 to 12 inches, put in bark, small chopped bark, top soil, bone meal, root hormone and then plant the tree. The picture above just not do the muck justice, this is one of the holes that a Pine Tree came out of. We have been at it for over a week now and while we have most of the trees in there are still at least 20 shrubs and numerous perennial flowers to go in.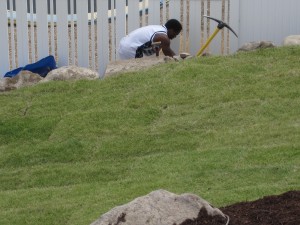 Digging holes the hard way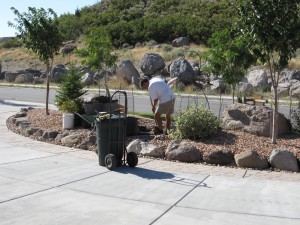 Tim cleaning out a hole to replant a Pine Tree
Needless to say it has been very slow going, each hole a battle field, we seem to be winning bit by bit but we have yet to win the war. It certainly is beginning to look like a yard/garden though, as we have been in Utah for 9 years now we have picked up a bit of the lingo ;o) a garden in England is a yard here and a garden here is where you plant vegetables, nothing else. Makes for a fun time when trying to convey to Mexican workers where and why you want something done. Confused? You will be!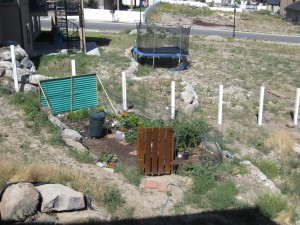 the vegetable garden with deer netting surround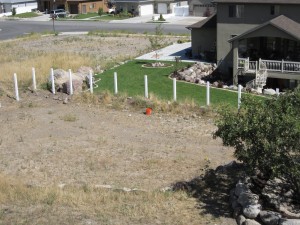 and to think one day this will all be lawn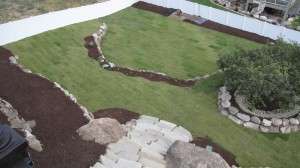 WOW what a difference a lawn makes
Anyway, Lake Tahoe is now just a dream, one I am too tired to even dream of when I fall in bed every night from exhaustion, at least my back seems to be holding up, thank goodness for Herriman Physical Therapy twice a week, sometimes I think they are the only ones keeping me upright. And a big Thank You to Jeanette and her friend Dave, they came and helped dig for 2 days (3 days in Jeanette's case) and that helped so much. We got a lot of holes dug and when they saw the results of the hole the dead tree came out of they realized why we were so anal about getting drainage and good soil in each hole for each tree and shrub.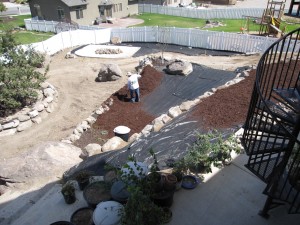 weed barrier down and mulch goes on top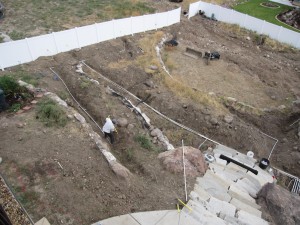 trying to put in the sprinkler system around all the rocks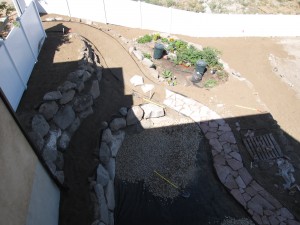 The path to the patio going in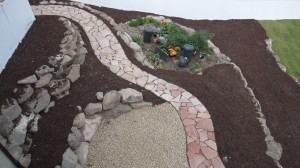 a finished path
The hole the dead trees came out of looked like the inside of a gray bucket, slick smooth sides with about 6 inches of water in the bottom. Who would have thought you could drown a tree in an arid state like Utah? Easy, plant it in Herriman on the side of a mountain that is full of rocks and clay, no wonder landscapers out here have a 50% attrition rate and as our landscaper said, this the price of doing business and homeowners won't pay the extra to get it done right.
We're paying in lost vacations and bad backs. Ces't la vie!

One Response to "Lake Tahoe and a vacation dream"