I did it in one day!
Posted on October 24, 2010 by sonjabarrie
My back didn't appreciate it but I drove straight through! I usually don't manage to get the car packed and on the road until mid afternoon which means an overnight stop at the halfway point: Virgin River Hotel in Mesquite. It's cheap and cheerful and clean, all you need when all you want to do is sleep and get up early the next day to be on your way.
However, this time I had packed most of the stuff the night before so I was finished packing and the final cleaning by 10am. It meant I was passing Mesquite about 2pm, bit pointless stopping for the night mid afternoon so I just kept going.
I also learned how long I can hold my bladder for….a tank of gas LOL!
It was a pretty easy drive until I got about 2 hours from home. By now my back was really beginning to complain, big time. But I was only 2 hours out, getting out the car had no effect, it actually seemed to make it hurt more when I got back into the car. You can only take so many pain killers before you know you can't take anymore in case it impairs your driving. Dilemma.
Nothing for it but to grit my teeth and soldier on through. Didn't help that I was hitting the worst of California traffic either. 5:30pm, you really know when you are hitting the outskirts of LA, bumper to bumper cars. I take the toll roads when I can on these trips, it might cost me $5 but it's worth every penny, as soon as you hit the toll road the traffic drops to about 5 cars! Incredible but I guess the road either goes the wrong way for most of the traffic or people don't want to pay that every day. Probably saved me at least an hour if not more. Definitely worth $5!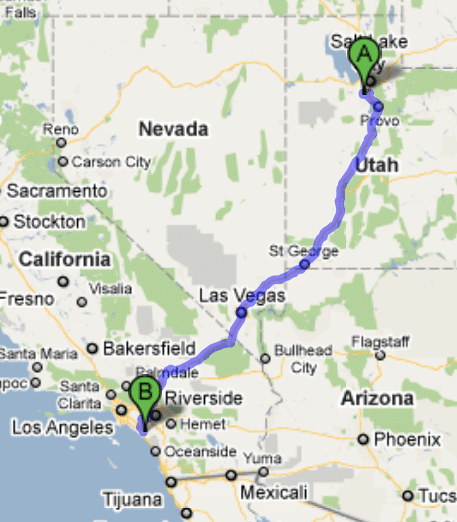 Herriman to Laguna Hills in 10 and a half hours!
I think I'll go lie down now if you don't mind.