And now for the next exciting installment coming to you from Herriman!
Posted on December 15, 2010 by sonjabarrie
And now for the next exciting installment coming to you all the way from Herriman!
(You have to say this in that voice they used to use in the 1930's type news accounts at the cinema)
In our last post we asked the thrilling questions: Did all the furniture arrive in one piece? Did all the pieces get put back together? Do Tim and Sonja like Utah weather? Ahhhh, the excitement, the thrills, the backbreaking work!
Now for this week's exciting conclusion!
First of all we drove from Primm on the Tuesday (23rd October), we heard on the radio that there was a storm moving into northern Utah later that day. All we could do was hope we got to Herriman before it hit, nothing worse than driving in horizontal snow at 10 miles per hour!
And that is exactly what we had to do! By about 5pm we had arrived at Provo and it was already snowing, Tim's tires were bald and we had been putting off getting another set until we really needed too, well now we REALLY needed to. We stopped by Firestone as it was the closest and naturally they didn't have any regular snow tires so we were just about to drive somewhere else when they told us they did have some that were actually wider and a bit more expensive (imagine that!) but they could at least put them on now.
$600 later Tim is back on the road, I mean while had carried on as I needed to stop by the store near home and buy milk etc. Apparently my tires weren't much better than Tim's, I was sliding all over the place, we did 15 mph all the way from Provo to Herriman.
It's about 35 miles and should take no longer than 45 minutes. Hours and hours later I arrived at Smiths to get some groceries completely forgetting that I have 4 wheel drive if I just engaged it. DOH! I was so busy trying not to slide into the side of a semi or off the side of the road I didn't even think to engage the 4 wheel drive. I did finally remember it as I was leaving the store and realizing I was going nowhere fast.
It snowed on and off all week and we still had quite a bit of snow on Monday when the truck was due to arrive so here's Tim clearing off the deck so they can put the table out there. Long way from orange trees and palm trees huh?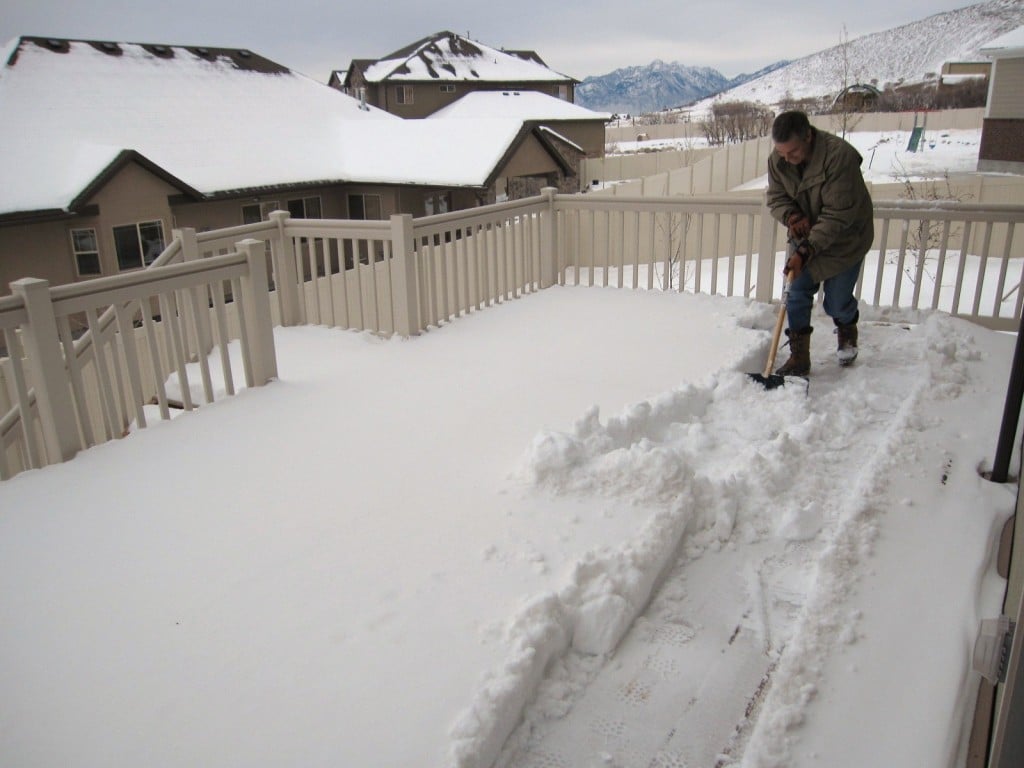 All I want are palm trees!!!
Did all the furniture arrive in one piece?
Yeah sorta, they broke the top finial off of a bedroom mirror, there was a plastic table top that was dented, our buffet cabinet had two legs damaged and the box with the lampshades got smacked and one of the lampshades was marked and crushed in two places.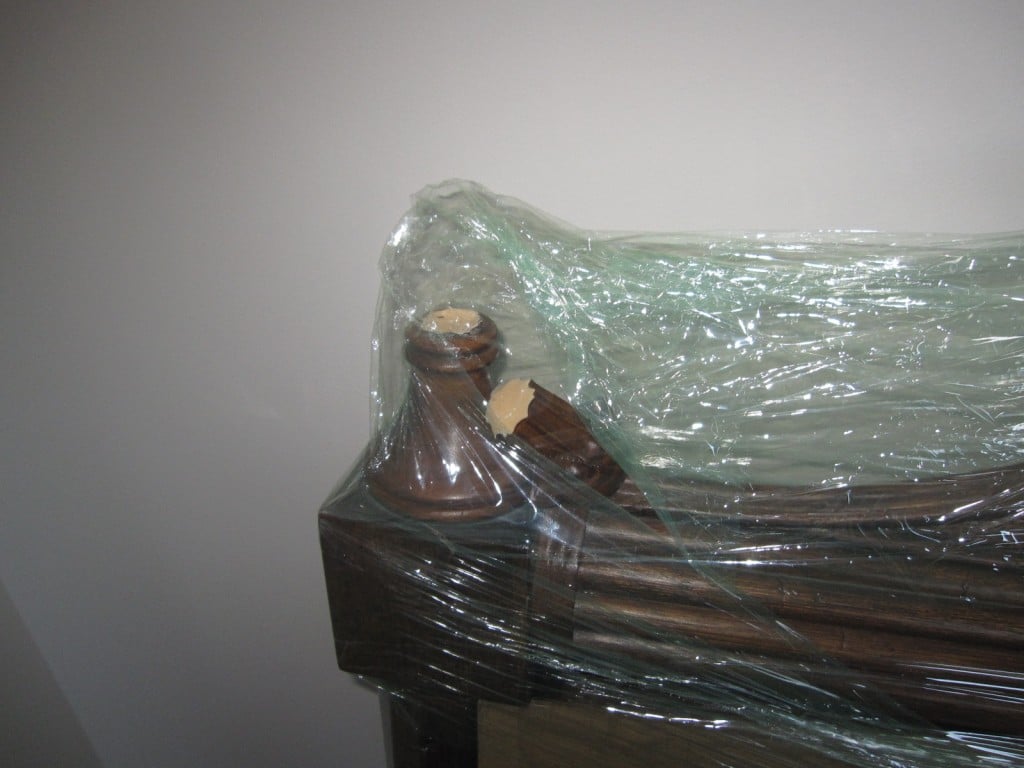 Broken finial on bedroom mirror
All in all not too bad though we did have a bit of a scare with the fridge. When the guys were taking it down the outside stairs to the basement they slipped, the fridge landed on it's back and because they were not very strong guys the fridge banged down each step. Needless to say when we turned it on after 24 of sitting it was like the Duracell bunny, it ran and ran and ran!
It finally did sort itself out though thank goodness and seems to be running OK now, fingers crossed!
One of the couches arrived with no legs. They took all the legs off everything before they packed it in the van, I'm sure it was so they could cram as much stuff in as small an amount of room as possible. And after setting up my sewing room I can see they put something very heavy on my sewing table as it now has a bow in it and the drawer is hard to open. Tim thinks he can fix it by putting a piece of wood under the bowed area and hopefully over time it will go back to the original position.
It's amazing how quickly time goes, not that I've ever said that before of course LOL, we have been here 3 weeks although only 2 with furniture and I am quite surprised at the progress we've made, we've unpacked just about every box, and most of the rooms are either fully assembled or not needed right now so we'll sort them when and if. The spare bedrooms for example, no one is going to use them so I am not in a hurry to get the beds put back together and made etc.
Here's the real bummer though, they took the bikes apart to save space but they never put them back together the buggers! Who knows when we will get the time to get them sorted and one can only hope that all the bits are there. You really gotta be careful with your bits, you never know when they might come in handy ;o)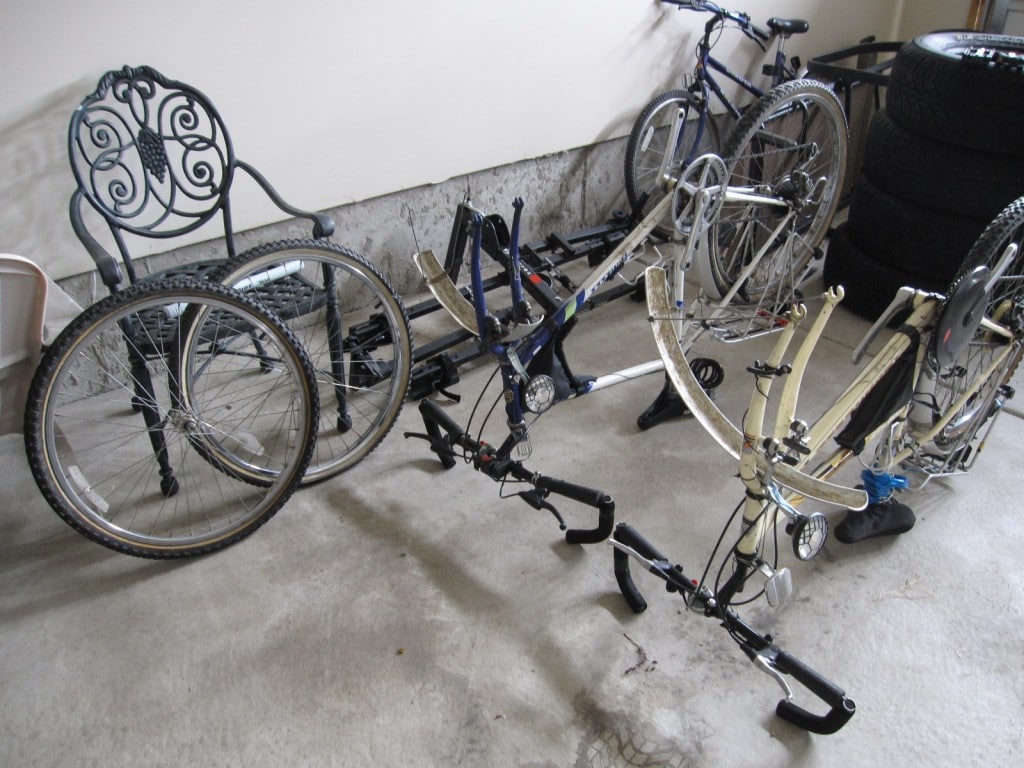 Our bikes with no wheels or pedals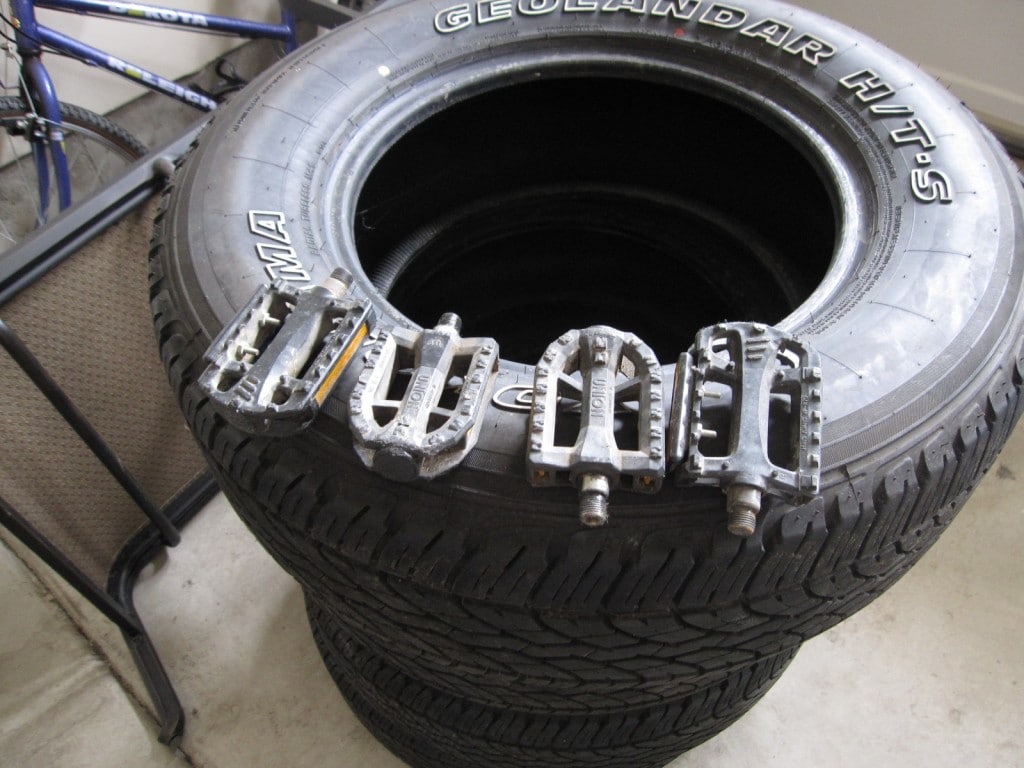 pedals for the bikes
This has nothing to do with moving but is a pain in the derrière just the same, we find after mopping up a big flood that there is a problem with the garbage disposal. It appears the whole casing has cracked and it looks like it's been that way for some time. Why can't tenants tell you this stuff?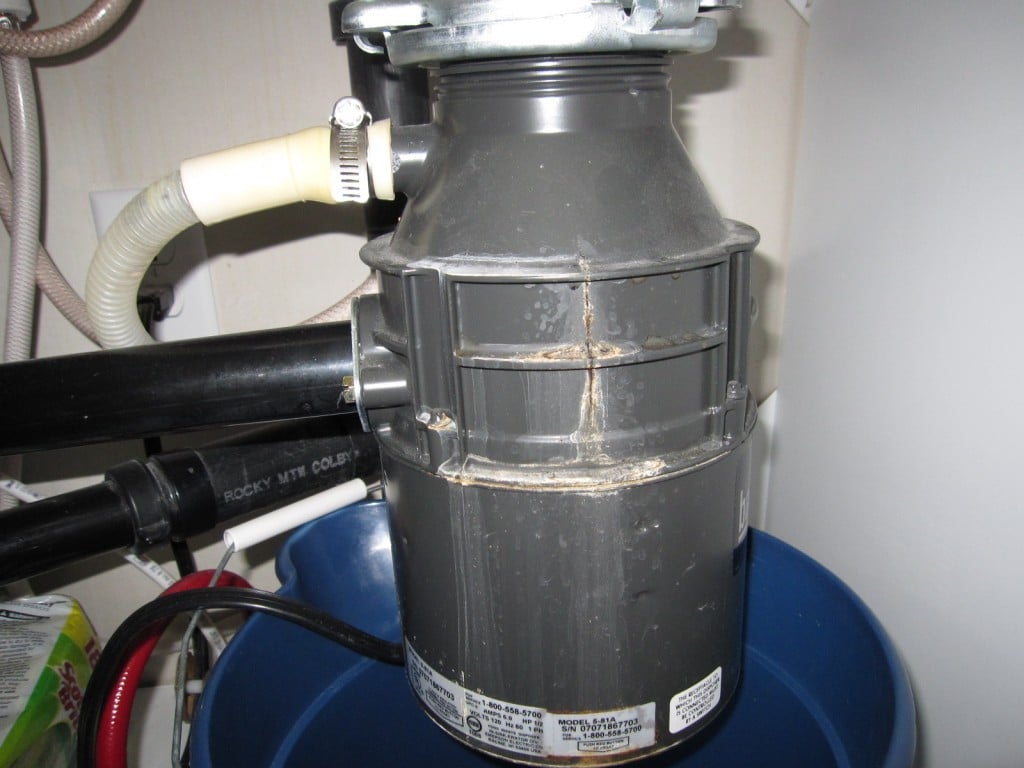 Garbage disposal with cracked casing
On a lighter note I managed to get my granddaughter Sonia's quilt in the mail to her for her birthday and apparently it was a big hit. Good to know all that time, effort and frustration is appreciated.
I also took some pictures from the window at the back of the house, this is one of the reasons you really do need a fence in Herriman.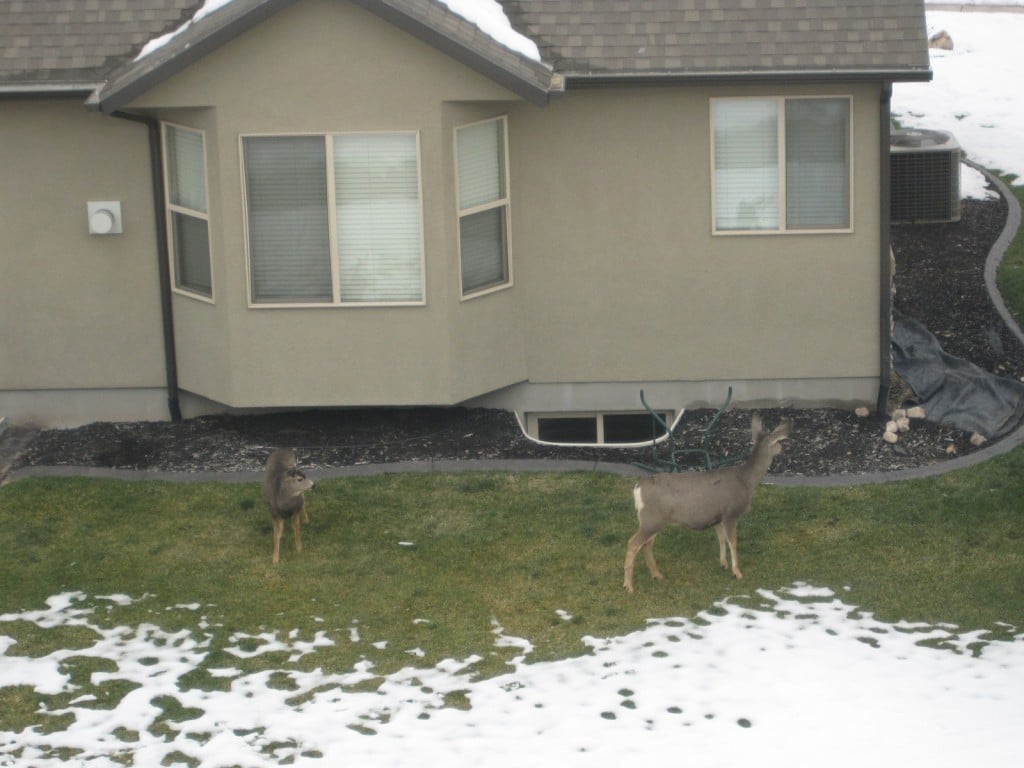 Do you think they'll see us back here?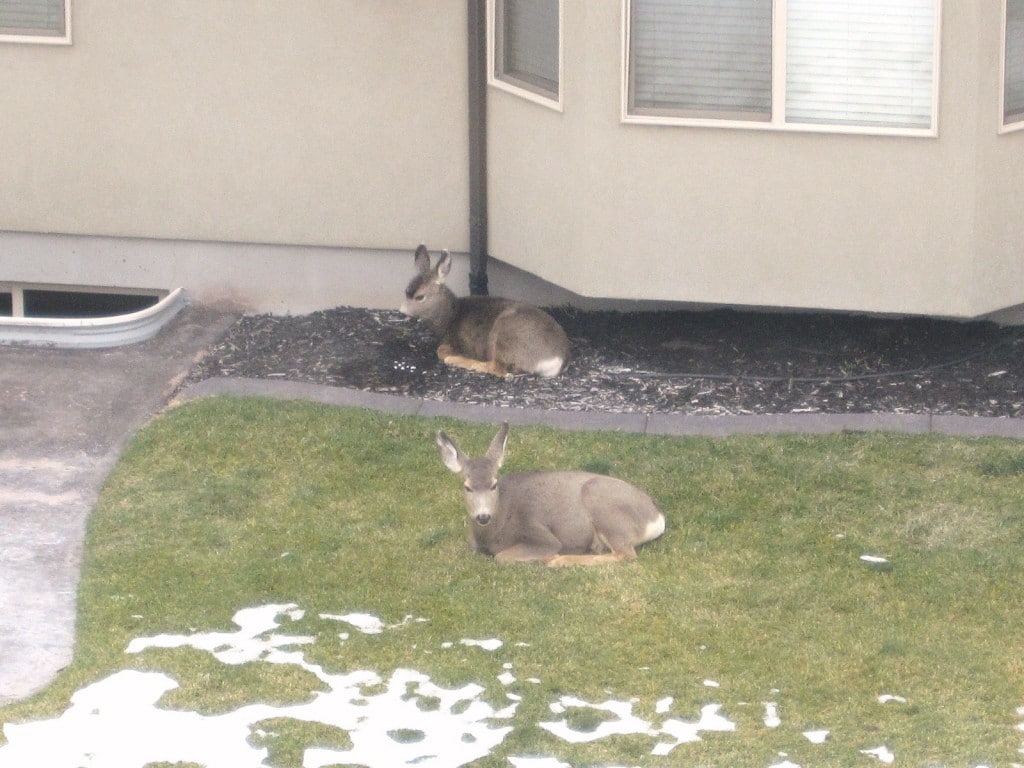 OK lets just wait awhile then we'll make our getaway: Mother and baby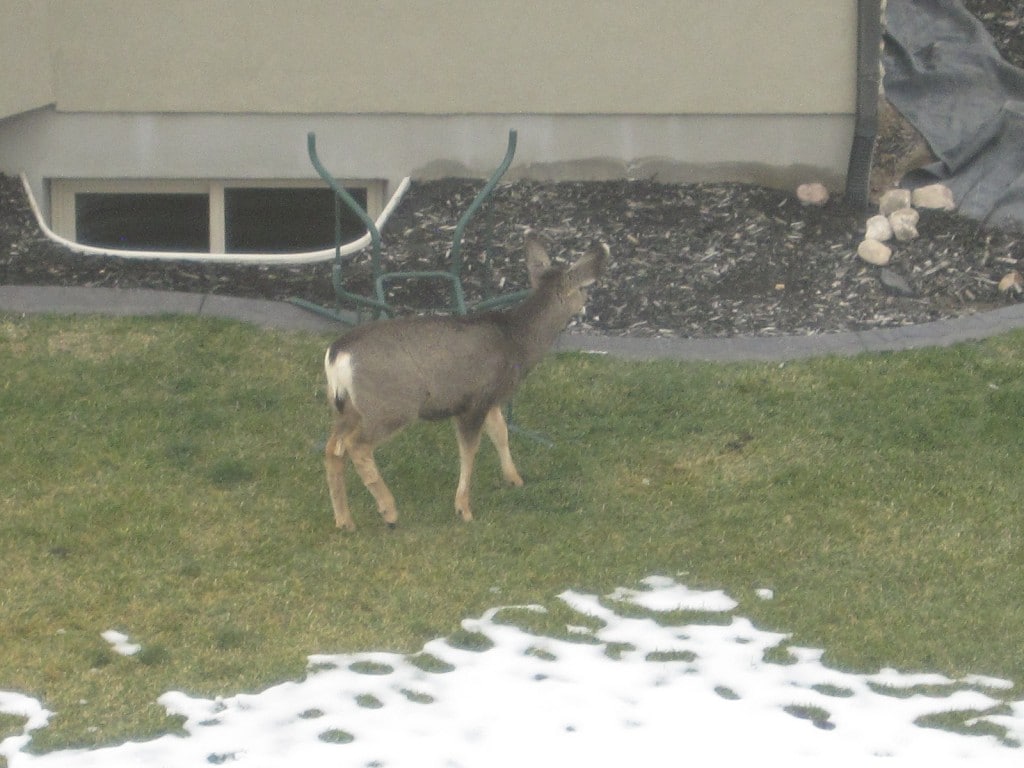 cute baby deer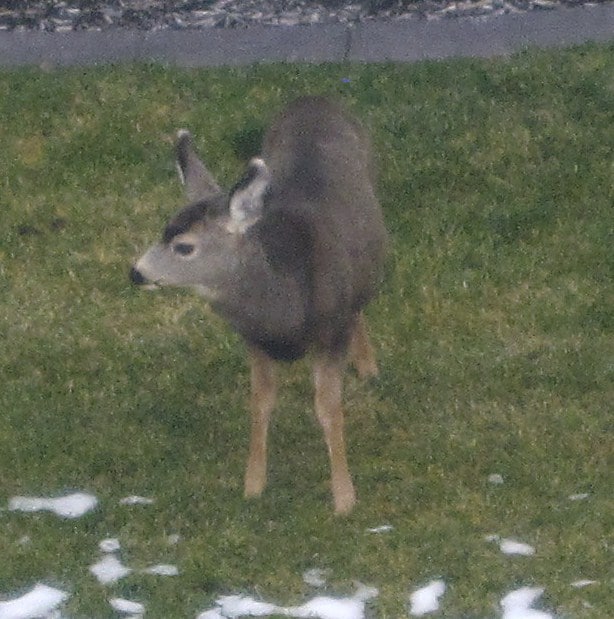 A baby anything is just so darn cute
One Response to "And now for the next exciting installment coming to you from Herriman!"