What have I been up to?
Posted on July 14, 2009 by sonjabarrie
Yeah I know, I haven't posted in ages, well things get busy you know! The worst part is some of those things are self inflicted, well I always said I was weird!
Firstly there's the yard, anyone who follows me on FaceBook has heard my rantings about working in a chain gang. I'm really not joking, I actually filmed this video so you don't see me working but I have been digging and taking out rocks for about a month now. Watch this video to get an idea of how hard it is to get a rock out of what I hope one day to be a flower bed.
This is part one of the video.
And Here's part two!
Here's a progression of the bed being dug out:
Sonja and Jeanette digging rocks in Herriman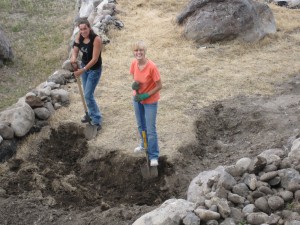 Sonja and Jeanette trying to dig rocks out in the early stages

We have now had some compost brought in and the hole is getting a bit bigger!
Here's Tim and our neighbor Zac trying to move some of the rocks using the kind of forearm straps used to move refrigerators and the like.
They are definitely big heavy buggers!
Getting near the end now thank goodness.
and to think every single freaking rock was either pulled out by hand or towed out by chain, where the hell was my mind when I started all this? Stuck up my you know what I think!!!
Even our resident ground squirrel family watches us thinking we are raving mad!
My New Website
Anyway between digging spurts I have also been trying to set up another web site. Yeah I know, another hair brained idea. Well it seemed like a good idea at the time. I had already purchased the domain myweirdandwackylife.com so I figured why not create a web site to go with it, get it hosted and then I could lose the blogspot part of the web site name I have right now.
That part was the easy part, I could create a website using WordPress.com but as they do the hosting I would just be replacing blogspot for WordPress and that didn't make sense so I went to WordPress.org where I could build my site and then get it hosted at Hostgator.com.
Now comes the fun bit (that's said tongue in cheek for those of you who don't understand sarcasm when you see it!) there are hundreds of templates you can use. The trouble with having so many to choose from is having so many to choose from. I would pick one only to find it wouldn't do all the photo's I like to show. Another would show the photo's but not the way I wanted. Another would do what I wanted but I had to code the whole thing to get it all set up.
Anyway to cut a long and boring story short I picked a template that had some easy customizable buttons and I am learning html, php and css style sheets to get the rest done. See what I mean about hair brained schemes that always sound great when they start?
All I have to say it this better be good when it's done and I hope to have a use for the skills when and if I finally get my aching head round them.
Maryn Nicole Cella
Now it would be great if that was all there was but of course it isn't. Some good friends of mine and Tims have three wonderful daughters. and their youngest Maryn was diagnosed with Diffuse Paltine Glioma last month.
Maryn Nicole Cella 3 years old

She is the youngest and is only 3 years old and is now in radiation every day of the week until the end of July, she has a tumor the size of a golf ball on her brain stem which makes it inoperable and although the radiation will, hopefully, shrink the tumor there is only a 5% chance it will work.
This is Maryn laying on her back, sedated with her head held immobile right before going into the machine for radiation treatment.
That said there are FDA trials that seem to be working at a place called the Burzynski Clinic but there is a huge cost, we need to raise about $60,000 and do it quickly.
http://www.burzynskiclinic.com/ph/index.html
Maryn has been accepted into the stage three trial and will start treatment 2 months after finishing radiation treatment, sooner if the tumor starts growning back quickly. Trouble is they can't start the treatment without $20,000 deposit, then there's the cost of the ongoing treatments. Hence the need for $60,000+.
Here's her mom's blog page and there are links to the illness.
http://marynshope.blogspot.com
and here's the link that also talks about her condition and it has links to the FDA trial Maryn has been accepted on, you can also make a donation here.
http://www.marynshope.org
So how do I fit into all this, well I joined the committee to help raise funds and one of the things we are doing is having a charity concert the 22nd August, I am in charge of getting Corporate sponsorship. Not sure how I am going to do it but I will be calling in a lot of favors from a lot of friends, associates and people I hardly know!
The other thing we want to do is create a Foundation, 9 children have died from this in as many weeks, one of which lives very near here and whose grandmother works with my best friend Kathy. It's such a small world and you never know how or who will touch your life. I feel supremely fortunate to know that up until now none of my children or grandchildren have had anything worse than normal childhood sicknesses.
If you do nothing else today could you at least go to one of the two web sites and even if you just donate $10 it will help.